With Few Democrats Defending Him, Republicans Call on Weiner to Resign
Anti-Weiner voices are beginning to rise in the halls of Congress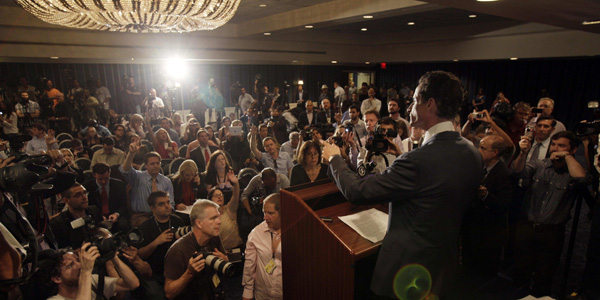 Rep. Anthony Weiner announced yesterday that he would not resign in the wake of his Twitter scandal, but pressure is beginning to mount on the New York congressman to step down -- most of it is coming from Republicans.
Today we heard the first high-profile call for Weiner's resignation, made by House Majority Leader Eric Cantor (R-Va.). "We've got a lot of serious challenges going on in this country and a lot of work for Congress to do. The last thing we need is to be immersed in discussion about Congressman Weiner and his Twitter activities," Cantor said, according to Roll Call. "I certainly don't condone his activity and I think he should resign."
Republican National Committee Chairman Reince Priebus said the same. "Congressman Weiner's actions and deception are unacceptable and he should resign," Priebus said in a statement released by the RNC. "We do not need an investigation to know he lied and acted inappropriately, we need a resignation."
The top Democrat in the House, Minority Leader Nancy Pelosi (Calif.), has not called on Weiner to resign, but she has requested a House ethics investigation into whether Weiner misused any congressional resources or violated any House rules in the process of liaising. "I am deeply disappointed about this situation," Pelosi said yesterday in a statement released by her office. The New York Times reported Tuesday morning that Weiner has found few defenders in his own party.
House Speaker John Boehner (R-Ohio) has remained silent, but Senate Majority Leader Harry Reid (D-Nev.) declined to stand by Weiner. "I know Congressman Weiner," Reid said, according to TalkingPointsMemo's Evan McMorris-Santoro. "I wish there was someway I could defend him, but I can't." Reid said he would tell Weiner to "call somebody else" if he called for advice, TPM reported.
The Republican Party's House campaign arm, meanwhile, is calling on other Democrats to return political donations Weiner gave them -- a standard tactic any time a lawmaker becomes embroiled in scandal. The National Republican Congressional Committee sent out press releases in the districts of 17 House Democrats who received donations from Weiner, warning that each Democrat "faces a choice between returning the scandal-tainted donations he has received from Congressman Weiner or silently condoning his colleague's lewd and bizarre behavior that could lead to a potential ethics violation."
The fate of Weiner's career in the House may rest on whether he violated House rules or misused taxpayer resources by, for instance, using his House office phone or computer to communicate with any of the women -- and whether he told the entire truth at his press conference yesterday. During that press conference, Weiner said he had not violated any rules or misused resources.
"I don't believe that I did anything here that violates any law or violates any oath to my constituents," Weiner said, mentioning specifically that his BlackBerry was not provided to him by the House. He also said he had spoken to one of the women after the scandal broke last week, but that "there was no coaching of any sort going on."
One woman is already claiming Weiner called her from his office, according to celebrity tabloid site RadarOnline -- a claim that suggests a violation, but one which remains unverified. Another woman, former porn star Ginger Lee, reportedly told Radar that Weiner offered to have "someone on [his] team" coach her on what to tell media if asked. Again, that allegation remains unverified, and insinuations that Weiner violated House rules have not been substantiated by the non-tabloid press.
Image credit: Richard Drew/AP
Drop-down image credit: AP