With a Money Bomb, Ron Paul's Attack on Romneycare Begins
The first big attack of the GOP race is aimed at the frontrunner's greatest liability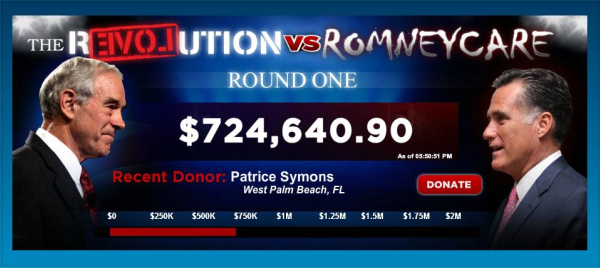 In the first major attack between declared Republican presidential candidates, Ron Paul is attacking Mitt Romney on health care.
Paul launched a fundraising "money bomb" on Sunday, urging supporters to donate a total of $2 million with a call to arms against "Romneycare." An updating tally dominates the homepage of Paul's website and Web ads pointing to the donation page are circulating on sites like YouTube.
The money bomb is more significant than fundraising though. The Paul attack will test whether Romney can stick to his strategy of focusing on President Obama and the economy (sounding like a general election candidate) or if he will have to talk more about health care, a potential liability for him in the GOP primary race.
It looks like Paul is only beginning to hit Romney on health care. Sandwiched between the title and the money on Paul's website are the words "Round One."