Why CNN Is Wrong to Exclude Gary Johnson From Its Debate
The cable network is substituting opinion polls for judgment, and preventing voters from getting to know the former two-term governor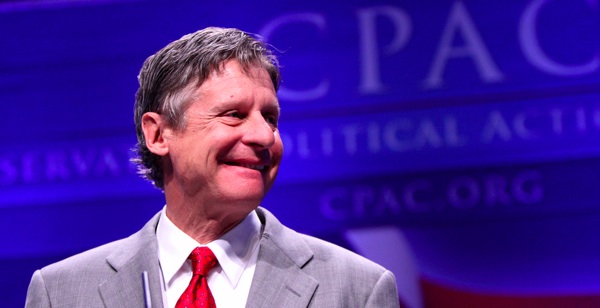 Asked to host a GOP primary debate, who would you invite? All declared candidates? The men and women doing best in the polls? The ones with the most compelling resumes? Anyone who could conceivably win? Or some combination of factors? Would you establish fixed criteria, and apply it no matter the results? Or exercise independent judgment to ensure that worthy candidates didn't get excluded? Forced to answer those questions, the folks at CNN, WMUR TV and the New Hampshire Union Leader decided to use what they call an objective formula: for the June 13 debate that they're sponsoring, a politician received an invite only if he or she has recently polled above 2 percent nationally or in the state of New Hampshire.
That's bad news for former New Mexico governor Gary Johnson, the only participant in the last GOP debate who'll be excluded. His campaign criticized debate organizers in a Saturday statement. In my estimation, their strongest argument is that in most polls, the margin of error is such that everyone who actually understands statistics knows folks polling at 1 percent and 3 percent are tied. "If we are going to focus on polls, we should be looking at the ones showing that many, many Republican and potential Republican primary voters are not satisfied with the field of candidates," a campaign spokesman went on to argue. "That won't change if those voters are denied the opportunity to see who and what their options really are."
In fairness to CNN, invites based on opinion polls do have some theoretical appeal. Everyone is judged according to the same standard. Debate sponsors aren't seen as biased. And public opinion polls are a strong if imperfect indication of a candidate's viability. But the approach is flawed and ought to be abandoned for the same reason that it's foolhardy to implement zero tolerance policies in public schools, mandatory minimum sentencing in courts, or teacher evaluations that only consider standardized tests. In all these examples, decision-makers use inflexible policies to absolve themselves of the responsibility to make difficult judgements in close cases. As a result, obviously relevant factors are ignored and self-evidently absurd outcomes result.
What factors are being ignored in the New Hampshire debate? There's Gary Johnson's resume. Especially in an early primary debate, where many voters are meeting candidates for the first time as much as choosing between favorites, having been a successful two-term Republican governor in a Democratic majority state ought to count for something. Nowhere is that more true than New Hampshire, where a strong showing by a long shot candidate can mitigate disadvantages like low name recognition and an inability to fund-raise. Isn't that an important possibility to preserve in a process where so much depends on courting publicity and rich people?
The absurd outcome should concern other candidates who received invites. It's perfectly appropriate that Tim Pawlenty, Mitt Romney, Newt Gingrich, Rick Santorum, and Jon Huntsman were contacted. But Donald Trump? Really? He decided against attending. But ponder this. The New Hampshire primary isn't until February of 2012. That's nine more months that voters have to get to know candidates! Is democracy best served by an early debate that includes a bombastic celebrity on the strength of his name recognition, and excludes a guy with eight years of executive experience because he spent more time governing than selling himself on reality TV?
Another problem with the CNN approach is that it permits the participation of politicians who aren't even formally running for president. I don't just mean pols like Michele Bachmann, who will participate despite the fact that she's neither declared nor set a date for an announcement. Or Sarah Palin, another invitee who won't make it, but could have if she wanted to take a break from her bus tour. CNN also invited Mitch Daniels and Mike Huckabee before they withdrew. Neither man will take the debate stage and make a mockery of the proceedings. But if they did, would CNN stick to its objective standards?
In theory, it's difficult to figure out who should be allowed in a presidential debate. It isn't always easier in practice, but I think that it is often easier, and this year shows why. I'd be hard pressed to articulate an overarching standard for who should get invites. But I'd suggest the general principle that the earlier the debate comes in the primary process, the bigger the tent should be -- you want to include every plausible contender who is earnestly serious about running.
By that standard, Gary Johnson would be included (and since other invitees aren't attending, we know there's room on the stage). So how about it CNN, WMUR, and the New Hampshire Union Leader? If you're looking to save face, just acknowledge that upon reflection Johnson meets the 2 percent threshold after factoring in the margin of error.
Image credit: Reuters