Tracking the long, slow reversal of public opinion, as President Obama announces the beginning of a U.S. drawdown
President Obama's announcement of a drawdown in Afghanistan comes on the same day as a notable development in public opinion: For the first time since 2001, a majority of Americans want U.S. troops to simply come home immediately.
The Pew Research Center announced that datum with its latest survey Wednesday morning, accompanied by this chart: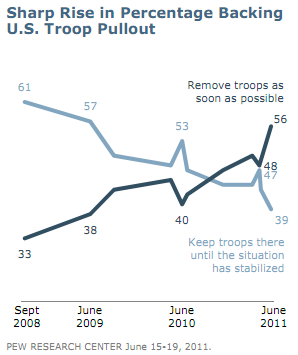 This marks a slow but drastic reversal in Americans' faith the war, which was greeted with near-unanimous support in the wake of 9/11. In October 2001, CBS reported that 87 percent of Americans supported going to war. It's rare that so much of the country agrees on anything so thoroughly.
How did we get here? Was there a moment when opinion shifted drastically? What caused the public to see things so differently?
Americans' opinions changed slowly and steadily, not all at once, according to Gallup's data. That firm has asked, since 2002, whether or not going to war in Afghanistan was a "mistake" -- a question not directly relevant to Americans' thoughts on what to do next, but one that can be used loosely to gauge sentiment nonetheless. And the turn has been mostly gradual and linear:
Opinion jumped twice, in the election years, of 2008 and 2010, but not by much