What's Up Next for the Debt-Ceiling Negotiations?
With Cantor and Kyl's exit from the Biden's panel, President Obama may have to negotiate directly with the Speaker of the House
With Cantor and Kyl's exit from the Biden's panel, successful negotiations depend on President Obama's talks with the Speaker of the House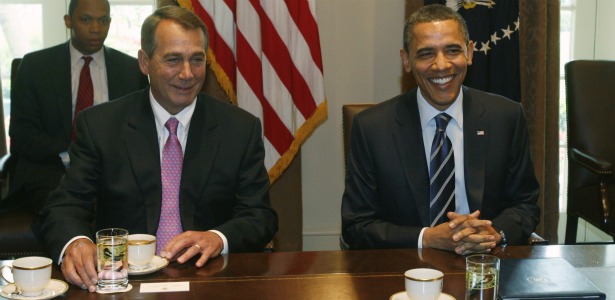 The decision by GOP leaders involved in the deficit-cutting talks led by Vice President Joe Biden to bolt from the negotiations may have seemed abrupt, but the move, in fact, now brings greater clarity to the effort and puts the responsibility for a successful outcome squarely on the shoulders of President Obama and House Speaker John Boehner, (R-Ohio).
---
MORE FROM NATIONAL JOURNAL:
Pawlenty Runs from Past on Environmental Policy
The Fiscal Foothill
Washington Losing Patience With Counterinsurgency in Afghanistan
---
House Majority Leader Eric Cantor, (R-Va.), and Senate Minority Whip Jon Kyl, (R-Ariz.), announced that they were quitting the talks on Thursday and blamed their exits on an impasse over tax hikes, but Cantor's and Kyl's departures--ushering in the likely demise of the Biden-led panel--should not have been that surprising. The Biden panel may have exhausted its usefulness, making way for the next stage of negotiations involving the president.
As far back as June 1, Boehner was already expressing some anxiety over the slow pace of the panel's progress, emphasizing that a deal was needed during the next month, and that Obama needed to become more engaged.
With the clock ticking down to August 2, the deadline by which the Treasury Department says Congress must increase its $14.3 trillion debt ceiling or risk defaulting on its obligations, Boehner had said there was no reason to bump up against that deadline.
"It's time to play large ball, not small ball," he declared.
It is now officially big-ball time.
Senate Majority Leader Harry Reid, (D-Nev.), said as much on Thursday.
"I think it is now, with what Cantor and Kyl have done, in the hands of the speaker, the president, and ... me," said Reid, describing what will now be a three-men-in-a-tub approach to taking on the nation's debt-ceiling crisis.
Reid said that no other groups or gangs would negotiate the deal, noting, "I think we are beyond gangs of five and gangs of sixes."
Reid also described the move by Cantor and Kyl "untoward and terribly disappointing."
In fact, Cantor and other members of the Biden panel had long been suggesting their efforts would be to merely devise an outline of an agreement, and that it would be up to Obama, Boehner, and Reid to strike the final deal.
That did not stop the speculation and palace intrigue on Thursday surrounding the circumstances of Cantor's sudden announcement that he was quitting.
Much of that had centered on whether Cantor had even consulted and coordinated with Boehner and other top Republicans on his decision to leave the Biden panel--or whether he just simply left the speaker holding the bag on negotiations that he saw leading to compromises he could not politically countenance.
Boehner himself offered little insight, either way, saying only, "I understand his frustration. I understand why he did what he did." Boehner went on to reassert that tax hikes remain, for Republicans, a topic off the table in negotiations. He said any tax hike would not pass the House.
Boehner also said he was waiting now to hear from the president--never mentioning to reporters that he had already met with the president the day before. Aides would not discuss the specifics of those talks.
Whether Cantor now, or will ever, actually help to carry any difficult legislative negotiations all the way across a finish line seems to be somewhat beside the point, as the crucial deficit-reduction talks now move to a new phase.
House Minority Leader Nancy Pelosi, (D-Calif.), and Budget Committee ranking member Chris Van Hollen, (D-Md.), a member of the deficit-reduction panel himself, had just left a meeting at the White House on Thursday with Obama when they got the news that Cantor had dropped out of the Biden talks.
Pelosi said she was disappointed in the news, but shot back, "Yes, we do want to remove tax subsidies for Big Oil. We want to remove tax breaks for corporations that send jobs overseas. That list goes on. I don't know that that's a reason to walk away from the table when we are trying to find a balanced approach," she said.
Van Hollen said Republicans were "playing with fire" with such maneuvers, given the approaching August 2 deadline. He also offered that as of the end of Wednesday's meeting, the Biden group had identified more than $1 trillion in spending cuts and were negotiating how to bring the package to about $2.4 trillion in deficit reduction, which is about the amount that the debt ceiling would need to be raised to get through 2012.
What now apparently rests on the shoulders of  Obama, Boehner, and Reid is to sort out how, exactly, to achieve that--given the Rubik's Cube mix of ongoing GOP and Democratic demands.
Republicans insist that there be no tax increases, and any deal including one will not have the votes to pass the House. Democrats insist that new revenues be part of the mix, and don't want any cuts to Medicare and other entitlement programs.
"Everything's got to be on the table," including "cuts in our tax expenditure," insisted White House spokesman Jay Carney, adding, "It has always been the case where these talks would proceed to a point where the remaining areas of disagreement would be addressed by leaders and the president ..."
"I don't have any announcement about what happens next but this process is sort of proceeding as envisioned," said Carney.
"The next phase is in the hands of those leaders, who need to determine the scope of an agreement that can tackle the problem and attract bipartisan support," said Biden in a later statement.
Image Credit: Kevin Lamarque/Reuters