What the Weiner Scandal Means for Democrats
Just as it was gaining traction, Obama's party is thrown off message by the misadventures of a New York congressman and its 2004 vice-presidential nominee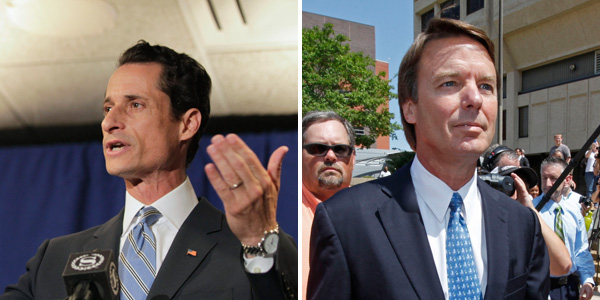 Whatever dredging equipment it was that House Democrats used to "drain the swamp" during their four years running the House evidently had a hole in it -- the size and shape of which have just become very public knowledge.
The passage of Rep. Anthony Weiner (D-N.Y.) into the pantheon of political sex-scandal wrongdoers represents more than just a punchline. Just as Democrats appeared to be getting some political traction -- with an unlikely victory in a New York special congressional election that was triggered by a Republican Internet sex scandal -- Weiner's admitted misjudgments and the threat of further revelations trip the party up and put it on the defensive.
(RELATED: Weiner: 'I Am Not Resigning')
It is difficult to assert authority as the party of compassionate fiscal responsibility while fielding questions about fellow members sexting, well, members.
For Democrats, the good news is that such scandals often flare and then fade. Sen. David Vitter, R-La., won reelection with nearly 57 percent of the vote last year, widening his 2004 margin, after copping to a prostitution scandal. And Minority Leader Nancy Pelosi (D-Calif.) quickly moved to inoculate the party on Monday, calling for an ethics investigation into whether Weiner violated any House rules.
"They're disturbing and have impact in the moment, but they kind of dwindle in their individual importance," said Patrick Griffin, legislative-affairs director for Presidentl Clinton and senior policy adviser for former Sens. Robert Byrd and Tom Daschle. "Their individual impact declines as it goes into some kind of process, an ethics investigation or whatever."
(COMMENTARY: Anthony Weiner Should Resign)
Griffin said, "It's like being punched in the stomach. It takes the wind out of you. You have to figure out how you're going to respond, and I think [House Democrats] have done that."
But the last two House members (also from New York; what is it about the Empire State?) who got in trouble for sex scandals, Democrat Eric Massa and Republican Chris Lee, were summarily shown the door by their party leaders -- a point that has not been lost on the political chattering class.
Exacerbating the Democrats' problem: Weiner is the second prominent member of the party to refuse to take his sexual disgrace off into obscurity. The party's 2004 vice presidential nominee, former senator John Edwards (D-N.C.), has signaled his intentions to stand and fight a federal grand jury indictment on campaign finance charges connected to his extramarital affair with Rielle Hunter. For good measure, Edwards has inked former White House counsel Gregory Craig as his lawyer, providing a neat tie to President Obama for Republicans to hammer.
(PICTURES: Political Sex Scandals)
Even hapless Republicans -- or ones unconcerned with preserving a hold on the House that seemed to be slipping a week ago or taking over a Senate that seems even more reachable today -- could get plenty of mileage off these two Democrats. On Tuesday morning, the National Republican Congressional Committee circulated names of House Democrats whom it said had accepted campaign contributions from Weiner, along with questions about whether the members planned to return them, a standard method for ensuring the political damage spreads.
"If it drags out and there's other shoes that drop, and he doesn't quit and then there's a fight about whether he leaves or not, that could be more damaging," said a former House Democratic leadership aide. "I think the next few days will tell a lot about what's going to happen."
"There's differences of opinion on yesterday, in terms of whether he can survive this or not. Because he was certainly contrite and apologetic. But if there are other things out there, who knows?"
Instead of hauling their baggage off to cable-television purgatory or Las Vegas, both Weiner and Edwards have opted to retain their hold on the spotlight and drain their share of momentum from the party. Weiner's colleagues have publicly proved to be more offended than sympathetic, following Pelosi's call for an ethics probe.
That Weiner has been something like the antithesis of a stolid, deferential team player -- preening consistently for the Fourth Estate, openly ignoring governors testifying before Congress by reading newspapers during committee testimony -- will not help him with any of the various and overlapping games he now has to play to save his seat. Diminished support among colleagues will only reinforce the throw-the-bum-out dynamic blooming in Brooklyn and Queens -- and, possibly, Albany, where Democratic lawmakers must decide which New York City House seat to eliminate in redistricting.
The best that Democrats can hope: Republicans' bomb-tossing capability will be limited because both parties have shown themselves splendidly nimble at jumping into sex scandals.
"They don't live in glass houses, either," Griffin said. "They'll use it as long as they can about the party for the moment; but they know it has diminishing returns, but they're exposed in the same way, almost the identical same way."
Image credit: Brian McDermid/Reuters (left), Chuck Burton/AP (right)