Weiner Says His Official Goodbye
With his resignation letter, the former congressman makes his exit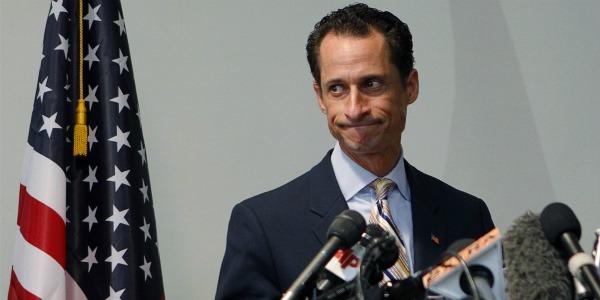 The tweet scandal was long, so Rep. Anthony Weiner, D-N.Y. made the official resignation short.
After weeks of scrutiny, and four days after saying he would step down, Weiner offered his resignation letter to Gov. Andrew Cuomo and New York Secretary of State Cesar Perales Monday. It was two sentences.
(MORE: Anthony Weiner's resignation letter - PDF)
"I hereby resign as a member of the House of Representatives for New York's Ninth Congressional District, effective at midnight, June 21, 2011. It has been an honor to serve the people of Queens and Brooklyn."
The coda comes after more than three weeks of a full-fledged scandal. Every time Weiner tried to draw out the process he only made things worse. First, he went on a television tour, and only obfuscated the situation more by declaring he could not say "with certitude" that a picture of his underwear sent from his Twitter account was not him.
"My system was hacked," he said on MSNBC. "Pictures can be manipulated. Pictures can be dropped in and inserted."
When more pictures of the congressman hit the Internet, this time in the form of half-naked photos from inside a House gym, Weiner decided to come clean. But even in his mea-culpa press conference, he seemed to make matters worse for himself. He again couldn't say with 100 percent certainty that the women he had correspondences with were of legal age.
"They were all adults--at least to the best of my knowledge they were all adults," he said on June 6. "All I know is what they publish about themselves in social media. Someone could theoretically be--have been--have been fibbing about it, and that's a risk."
If Weiner thought that the press conference would deflate the story, he was wrong. Knowing that Weiner had been in communication with at least six women, plus the addition of a newly leaked graphic image (allegedly of Weiner), created a perfect storm that the congressman could not weather.
Last week, Weiner held a press conference to say, "I had hoped to be able to continue the work that the citizens of my district elected me to do," but "unfortunately the distractions that I have created made that impossible."
Even during this moment of live contrition, Weiner could not get away from the distractions that he created, and was heckled by at least two people in the audience. Once called the 46-year-old a "pervert" while the other shouted out lewd questions.
It may be the last time that Weiner makes a public appearance. When his resignation letter is read into the record today, Weiner won't be the one reading it.
Image Credit: Mike Segar / Reuters