United States v. Johnny Reid Edwards: The Case Begins
The story laid out in the indictment of the former VP nominee reads like Watergate meets Lewinsky meets All The King's Men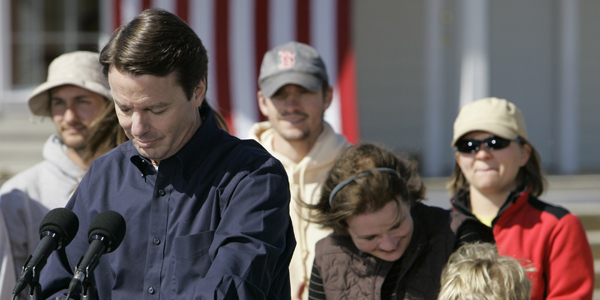 This summer's parlor game of "Beltway Chicken" has officially begun. Speeding in one direction is former presidential hopeful John Edwards, one of the most famous living trial lawyers in America, who has by his side Gregory Craig, late of the White House Counsel's office under President Obama. And steaming directly toward Edwards and Craig is none other than Lanny Breuer, now an Assistant Attorney General of the United States, who counseled President Clinton during his impeachment travails 14 years ago.
Small world, eh? It's like a civil war among illustrious members of the alumni association of the White-Shoe Democratic Lawyers Club. And it surely won't be long before Lanny Davis chimes in as well. Over what? A federal grand jury has just indicted Edwards for violating campaign finance rules, for conspiring to do so, and for making false statements, all in an effort to conceal from the public and his campaign his extramarital affair with a woman named Rielle Hunter. Think Watergate meets Lewinsky meets All The King's Men.
Indeed, the indictment reads like one of Bob Woodward's recent books. For example, as a way of establishing a motive for Edwards' alleged conduct, the very first paragraph offered up by the feds says this: "A centerpiece of EDWARDS' candidacy was his public image as a devoted family man. The communication strategy developed by EDWARDS' campaign stressed the importance of publicizing, among other things, 'that [EDWARDS'] family comes first.' " This is indictment-speak for: whatever political (and personal) motives Edwards may have had to cover up his relationship with Hunter also rose to the level of legally-valid motives as well.
For the record, here from Paragraph 15 of the indictment is the essence of the government's case against Edwards:
The purpose of the conspiracy was to protect and advance EDWARDS' candidacy for President of the United States by secretly obtaining and using hundreds of thousands of dollars in contributions from [donors] Person C and Person D, well in excess of the Election Act's limit, to conceal EDWARDS' extramarital affair with Person B and Person B's pregnancy with his child. EDWARDS knew that public revelation of the affair and pregnancy would destroy his candidacy by, among other things, undermining EDWARDS' presentation of himself as a family man and by forcing his campaign to divert personnel and resources away from other campaign activities to respond to criticism and media scrutiny regarding the affair and pregnancy.
And here is what Breuer said on behalf of the Justice Department shortly after the indictment was announced:
Mr. Edwards is alleged to have accepted more than $900,000 in an effort to conceal from the public facts that he believed would harm his candidacy.  As this indictment shows, we will not permit candidates for high office to abuse their special ability to access the coffers of their political supporters to circumvent our election laws.  Our campaign finance system is designed to preserve the integrity of democratic elections -- for the presidency and all other elected offices -- and we will vigorously pursue abuses of the kind alleged today.
In response Friday on behalf of his famous client, Craig said: "John Edwards will tell the court he is innocent of all charges, and will plead not guilty. He did not break the law and will mount a vigorous defense." I imagine he will mount such a defense. John Edwards did not make his name as a trial lawyer in white-collar federal criminal defense work. He did not make it as a well-connected Washington power lawyer. Instead, he made it as a plaintiffs' attorney in civil cases. But a judge is a judge and a jury is a jury and it's conceivable that Edwards will be able to assist Craig nearly as well as Craig will be able to assist Edwards in defending against the charges.
And they will have plenty to work with. The best 
explanation
I have seen so far about what the Edwards' defense may look like came from a recent piece in the
Charlotte Observer. 
Reporter J. Andrew Curliss wrote:
The payments for Hunter never touched campaign or Edwards' accounts. The money went to Young and Hunter directly from the donors or to intermediaries. It was not reported on campaign disclosure forms.
But the prosecutors contend the money flowed so that the campaign could continue, and would point out that one of the donors, the late Fred Baron of Texas, was an influential and important person in Edwards' national campaigns. The other donor was heiress and multimillionaire Rachel "Bunny" Mellon of Virginia.

The Edwards legal team argues that the money was intended to keep the affair a secret from Edwards' wife, Elizabeth, and constituted legal gifts not connected to the campaign. Edwards is not the first to get help from a friend to pay a mistress, they say.
Like many people, I thought this matter would be settled short of an indictment. And I still think it will likely settle before trial if the noted members of the White Shoe Democratic Lawyers Club Alumni Association can make a reasonable peace. So what is most fascinating to me about the indictment is not its now-familiar story of Edwards and Hunter and the money but rather the presence of its sixth and final count. The feds allege that Edwards made a "false statement" not to federal investigators but rather to members of the John Edwards for President Committee, who relied upon that information to file inaccurate reports with the Federal Election Commission.
That's not exactly the same as lying to a federal investigator's face, which is what
brought down
Martha Stewart and many others. So if there is going to be a pre-trial deal, it likely will center around the act of Edwards pleading guilty to this count. Was Edwards offered such a deal before today? Or did Craig offer it up as a nugget to Breuer and company? If we knew the answers to those questions we'd know for sure what each side really thinks of the strength of their case.
Right now, alas, all we know is that official Washington is going to have at least a summer's worth of its favorite kind of diversion -- a story about politics, sex, money and power-- that has an appropriate cast of villains and so far very few perceptible heroes.

Image credit: Alex Brandon (Associated Press)