Top 10 New Orwellian Euphemisms for the War in Libya
A patriotic attempt to support the commander in chief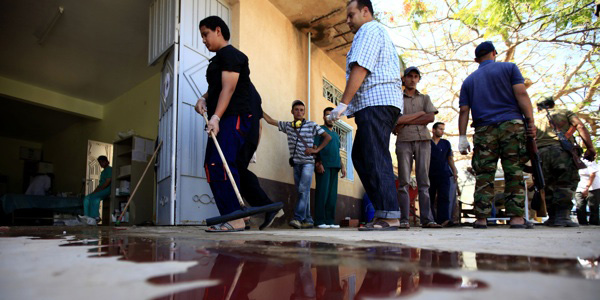 Rather than call the conflict in Libya a war, the Obama administration has introduced a new phrase into the popular lexicon. "The way I like to put it is, from our standpoint at the Pentagon, we're involved in a limited kinetic operation," says Secretary of Defense Robert Gates. President Obama has consistently used the same locution. As critics ridicule it, Obama and his loyalists may find themselves in need of new Orwellian euphemisms for waging this war. I humbly offer a few suggestions for how they can describe our efforts in Libya going forward.
10) A multilateral hazing rite to initiate Libya into the fraternity of free nations.
9) Operations abroad characterized more by their energy than any animus toward what I'll refrain from calling the enemy.
8) The U.S. military's unconventional audition for the upcoming season of Robot Wars.
7) A live ammunition training exercise meant to ensure the preparedness of American troops should they ever need to drive a North African dictator from power.
6) Stimulus spending to create or preserve jobs for hard-working Americans who happen to work in munitions factories.
5) A variation on the successful beer summit held with Professor Gates that shows deference to Libyan cultural taboos surrounding alcohol by substituting Predator drones.
4) A non-hostile military engagement to which the Pottery Barn rule is obviously inapplicable -- the French wouldn't even stoop to breaking things in such a store.
3) A support mission where America is a mere pit crew to the NASCAR drivers of NATO.
2) A determination to lend France and Britain sufficient munitions and refueling capability to give their efforts a new lease on life.
1) An overture to the Libyan people of hope and regime change.
Image credit: Zohra Bensemra/Reuters