The Toughest States for Obama to Defend in 2012
The president expanded Democrats' electoral map in 2008, but this time around he could struggle to reclaim the states that helped him win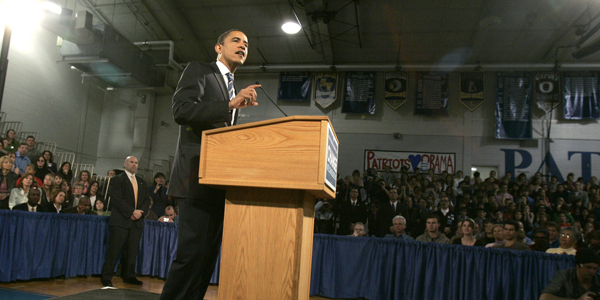 President Obama won 365 electoral votes in 2008, but with a struggling economy, his campaign is focused on defending the gains he made.
I interviewed 10 veteran Democratic and Republican strategists to get their sense of which states will be toughest for Obama to hang onto. Based on their feedback, here's the list of the five states that supported Obama in 2008 that are most likely to vote Republican:
---
MORE FROM NATIONAL JOURNAL:
The Graying of the President
Democrats Hoping Weiner's Wife Persuades Him to Quit
The States of Play
---
1. Indiana (11 electoral votes). That the president's advisers are privately downplaying their chances of recapturing the traditional GOP stronghold--and talking up, instead, his chances in other longer-shot states like Arizona and Georgia--is a clear sign the Hoosier State is looking out of reach. Democrats took it on the chin during the midterms, losing a Senate seat and two of the state's nine House seats. The recession has hit Indiana particularly hard: Unemployment hovers near 10 percent.
2. North Carolina (15 electoral votes). Obama traveled to Durham this week to make his case for reelection--the latest sign that the White House views the Tar Heel State as squarely in play for 2012. It fits to a tee the profile of the states Obama is targeting--diverse, well-educated, with a growing proportion of its population in cities and suburbs. The Democratic convention is being held in Charlotte, which should excite the home-state base.
But underneath those encouraging indicators are telltale signs that recapturing North Carolina is easier said than done. Obama won the state by a razor-thin, 14,000-vote margin in 2008, thanks to record black and youth turnout. With unemployment at 9.7 percent and the recession disproportionately affecting those groups, it's hard to foresee that same level of enthusiasm again.
Other factors don't bode well for Obama, either: the state's Democratic governor, Bev Perdue, has struggled with low approval ratings and faces the likelihood of a tough challenge from former Charlotte Mayor Pat McCrory. The state's most prominent Democratic politician, former presidential candidate and Sen. John Edwards, might be on trial around the time of the president's reelection campaign.
3. Florida (29 electoral votes). The Sunshine State's 10.7 percent unemployment rate is the nation's fourth highest. Little has improved economically since the 2010 midterms, when Democrats lost the governor and Senate contests, and saw four Democratic House seats flip to the GOP. For a president who won Florida by just a three-point margin in 2008, that's not a recipe for success.
Two other major warning signs for Obama: His handling of Israel has hurt him with the traditionally Democratic Jewish community, which makes up a small but significant part of the Florida vote. That could be pivotal in a close race.
Another factor playing to the GOP's advantage: Marco Rubio. The freshman senator has kept a low profile since being elected to the Senate, but he looks like a leading contender to emerge as the GOP presidential nominee's running mate. If he were to be selected, he'd be the first Hispanic candidate on a national ticket. Just as Sen. Joe Lieberman's status as the first Jewish nominee on a major-party ticket helped his presidential running mate, Democrat Al Gore, compete in Florida in 2000, Rubio on the ticket would have a similar halo effect for Republicans.
4. Ohio (18 electoral votes). Talk to enough Democratic strategists who have worked in the Buckeye State and you'll inevitably hear anxiety about the president's standing here. Obama has visited Ohio more than any other battleground state since being elected, but it hasn't made much of a difference in his poll numbers. Obama's message that the economy has been turning a corner has been off key with a blue-collar electorate that hasn't been feeling much of a recovery.
The president's pitch on saving the domestic auto companies from bankruptcy is targeted at a manufacturing state like Ohio, but the argument seems to be falling on deaf ears. It's a tough sell--one Democratic strategist who ran races in Ohio last year lamented that, even in Democratic-friendly districts, the auto-bailout message was a losing issue in focus groups.
A Quinnipiac poll, conducted from May 10-16, shows the challenges Obama faces in Ohio. While his overall approval rating (right after the bin Laden killing) was 49 percent, his economic job approval is stuck at 39 percent, with 55 percent disapproving.
5. Nevada (6 electoral votes). Republican strategist Mike Murphy wrote in Time last week that the presidential election is shaping up to be a battle of the economy, which favors Republicans, versus shifting demography, which favors Democrats.
Nowhere is that divide more evident than Nevada, the state with the highest unemployment rate, the highest rate of foreclosures, but a fast-growing Hispanic population where Democrats have performed well in both 2008 and, relatively speaking, 2010.
If former Massachusetts Gov. Mitt Romney is the nominee, Republicans believe he could be uniquely successful in the state. His business background could appeal to those suffering from the economic bust, and his Mormon faith should play well in a state where they make up about 8 percent of the population.
Honorable mention: Other states that Obama will have to work hard to hang onto include: 6) Virginia (13 electoral votes); 7) Pennsylvania (20 electoral votes); 8) Colorado (9 electoral votes); 9) New Hampshire (4 electoral votes); 10) Iowa (6 electoral votes).
Image credit: Tim Shaffer/Reuters