The Scandalous Pleasure of Not Writing About Anthony Weiner
A recovering gossip columnist on the spring's bumper crop of political scandals and juicy stories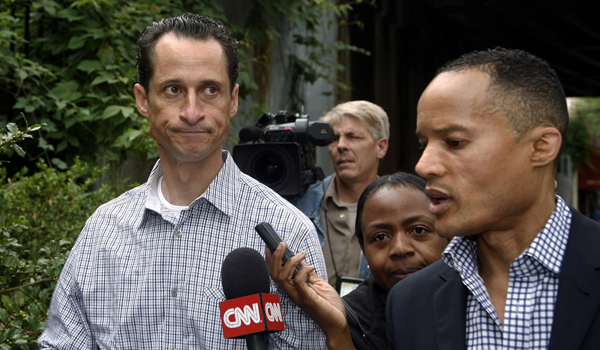 These are tough times for a recovering gossip columnist.
In the past month alone, while toiling in solitude on my first book, I've left to other writers, bloggers and talking heads the ceaseless task of dissecting this spring's bumper crop of political scandals and juicy stories: Rep. Anthony Weiner's full-frontal, cyber-sexcapades, including an allegedly not indecent exchange with a 17-year-old high school girl and a stab at rehab to become a "better husband and a healthier person" after a tortuous cycle of lying, denying, crying and defying Dem leaders who want him bye-bye-ing; former California governor Arnold Schwarzenegger's belated confession that he sired a son with a trusted family housekeeper years before seeking office, thus turning Maria Shriver into another grievously betrayed Kennedy clan wife; former House Speaker Newt Gingrich's six-figure Tiffany debt listed on third spouse Callista's financial disclosure statement, which surfaced weeks before the implosion of his White House campaign and finger-pointing at Mrs. Gingrich for insisting they take a very pricey Greek Isle Cruise rather than campaign in those tedious early states; thrice-wed IMF chief Dominique Strauss-Kahn's long history of consensual and predatory sex, capped by criminal allegations of attempted rape of a hotel maid; and two-timing, two-time presidential candidate John Edwards's indictment, charging him with campaign finance violations in a scheme to hide and silence mistress/baby mama Rielle Hunter, who bore his love child as wife Elizabeth was dying of cancer.
Whew!
To be sure, these men are just the latest in a seemingly endless bipartisan parade of lust-busted public servants. But it's a good bet that by, say, the Fourth of July -- or maybe even next Friday -- yet another narcissistic official whose brain has drifted groin-ward will get caught committing an inexplicably stupid, arrogant act that sullies the office and humiliates the family.
And here I sit, day after day, doing research, tweaking chapter synopses and crafting an author marketing strategy without typing a single word for public consumption about this current pack of political miscreants and potential criminals.
Make no mistake. I find each of their stories riveting in the extreme. After all, I spent nearly four years in the late 1990s co-writing the Washington Post's cheeky "Reliable Source" gossip column, which was long on sex, lies, politics and idiocy. But chronicling the bad behavior of the rich and powerful finally proved too corrosive, so I switched portfolios to architecture, home design, antiques and 21st century manners, which occasionally touched on such lesser sins as appalling lack of taste and failure to send a timely, hand-written thank you note.
After a 2008 Post buyout, I launched a varied and entertaining freelance career (though I have yet to pitch something truly divine to Garden and Gun). But old habits die hard, and in January 2010, I joined PoliticsDaily.com to create and write "The Republic of Dish." This 14-month gig included stories about those crashing boors, Tareq and Michaele Salahi, South Carolina Gov. Mark Sanford and his Argentine soulmate, Al and Tipper Gore's divorce and Rep. Chris "Craigslist" Lee, who unlike Weiner, apparently bared only his chest in an emailed photo to a potential date. Mercifully, my job also included serious, straightforward political and campaign reporting. When PoliticsDaily ceased to exist in March, I returned to the book in earnest.
These days, it is increasingly difficult to concentrate amid so many titillating stories, all of which seem perfect for a snark-infested HBO docu-potboiler. Like an ex-jockey who chomps at the bit while watching Triple Crown races, or a retired firefighter obsessed with the horrific Arizona blaze, I sometimes wonder whether I should re-enter the world of gossip, rumor and innuendo, even if only temporarily.
And then what? Would I phone Lee Hart in Colorado and ask how she weathered husband Gary Hart's 1987 dalliance with Donna Rice, in, among other places, their Capitol Hill home, for God's sake? Would I interview the very same Donna Rice, now Hughes, who now heads Enough Is Enough, an anti-porn and Internet safety advocacy group?
Would I check in with Jenny Sanford, who divorced her lovesick husband and wrote a book about the ordeal? Track down Michele Lee to see whether she stuck with her shirtless ex-congressman hubby (he's her second, and the father of their young son), or ask if she has some helpful House-spouse advice for Huma Abedin, now pregnant after just 11 months of marriage to the disgraced Weiner?
I know there isn't a chance in hell Secretary of State Hillary Clinton, who knows a thing or two about staying married to a straying husband, would reveal any wise counsel she may be giving Abedin, who has worked closely with Clinton since her 1996 stint as a White House intern. And Abedin herself is among the most private and tight-lipped members of the Washington politocracy. Should I query the usually garrulous Bill Clinton, who performed their marriage ceremony, about his take on Weiner's next move? Hah!
Is it worth asking former New York governor Eliot Spitzer -- the infamous john whose fondness for hookers derailed a promising political career, but in due time spawned a second profession as a CNN talking head -- if he is now a better person and a healthier husband and how Weiner should handle, his, uh, comeback?
As I ponder the questions I'd put to these scandalistas and those who love them, I am struck by a simple truth: I do not, at this moment, wish to reach out to a single one of 'em. I'd much rather take a good strong shower and focus on my own story.
Image credit: David Karp/Associated Press