The Real Dickishness Problem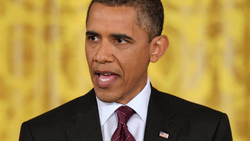 Of course Mark Halperin should not be fired for
saying on MSNBC
that President Obama had been "kind of a dick" when sounding angry at Republicans during his press conference yesterday. I say that notwithstanding the certainty that if some other "mainstream" journalist had said the same about George W. Bush on MSNBC or CNN, the outrage would never have been allowed to ebb on Fox and the Limbaugh show. (Angry Obama picture yesterday, via
CBS
)
The real problem is the dickishness of our mainstream political analysis, especially from the "savviest" practitioners. Back during my days as media critic, I argued in Breaking the News and a related Atlantic cover story that the laziest and ultimately most destructive form of political coverage came when journalists seemed to imagine that they were theater critics or figure-skating judges. The what of public affairs didn't interest them. All they cared about was the how.
In this case, the "what" of Obama's press conference -- the unbelievable recklessness of mainly House Republicans in inviting the largest self-inflicted economic wound in American history -- deserves every bit of frustration Obama showed, and lots more. In the long run we'll have some sense of whether Obama's typical surreal unflappability, whatever its origins (I have my theories, but for another time), was the wisest long-term response to today's Republican party -- and whether this unusual flash of emotion worked in directing public attention to a looming and entirely unnecessary blow to America's wellbeing.
But the real news of the press conference, of course, was the economic, financial, political, and Constitutional showdown Obama was discussing. Not to understand that, and to act as if this was a free-skate program where a contestant should be judged on poise, costume, and sticking the landings, is just dickish.
UPDATE: Harder-edged version of similar analysis from Greg Sargent of the WaPo.
ALSO: After the jump, a strong point from Andrew Sullivan on the "economic terrorism" of the Republican stance.

Andrew Sullivan writes today:

>>For the GOP to use the debt ceiling to put a gun to the head of the US and global economy until they get only massive spending cuts and no revenue enhancement is therefore the clearest sign yet of their abandonment of the last shreds of a conservative disposition. A conservative does not risk the entire economic system to score an ideological victory. That is what a fanatic does.<<