The Coming GOP Battle Royale?
If Rick Perry enters the presidential race, look for him and Michele Bachmann to duke it out
If Rick Perry enters the presidential race, look for him and Michele Bachmann to duke it out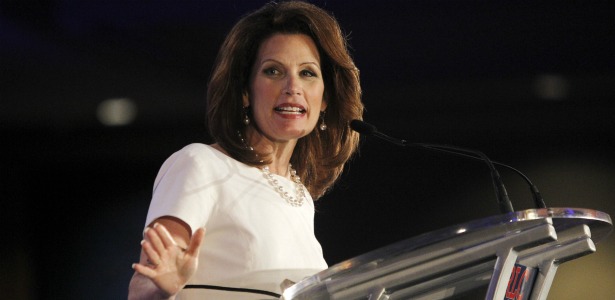 Now that former Utah Gov. Jon Huntsman has announced his candidacy for the GOP presidential nomination, the biggest question remaining is whether Texas Gov. Rick Perry will jump into the race.
If former Alaska Gov. Sarah Palin opted in, watching her and Rep. Michele Bachmann of Minnesota tangle would be worth the price of admission. That bout is unlikely to materialize, but a Perry-Bachmann fight for supremacy among social conservatives and tea party Republicans would also be entertaining. Both have the potential to raise a lot of money, motivate armies of passionate conservatives, and run no-holds-barred campaigns aimed at the two-thirds of Republicans who prefer their politics unvarnished and undiluted. Even though Bachmann and Perry would be going after the same market, that hard-core space in the GOP is large enough to prolong the fight for a while.
The potential for Perry and Bachmann to suck all the conservative oxygen out of the campaign is great, and their rivals for the right side of the GOP bracket, such as businessman Herman Cain and former Sen. Rick Santorum, will have to fight for attention. Just as the battle between Sens. Hillary Rodham Clinton and Barack Obama in 2008 left their nomination rivals gasping for air and attention, a Bachmann-Perry duel could have the same effect in the more conservative and larger of the two GOP tournament brackets. Rep. Ron Paul of Texas and former New Mexico Gov. Gary Johnson will have their own competition for the narrow but vocal libertarian faction of the party, and former Speaker Newt Gingrich will have to deal with the perception that he is running against himself--and losing.
That leaves former Massachusetts Gov. Mitt Romney, former Minnesota Gov. Tim Pawlenty, and Huntsman battling over the smaller, less conservative bracket. Each is hoping that he can emerge as the non-fire-breathing conservative contender in the GOP nomination championship game. Each believes that the electability argument will work in his favor, that Republican voters will choose him as the one who can play the best game against President Obama.
Electability has not been the strongest argument for a candidate seeking a party's presidential nomination, but Republicans' antipathy toward Obama is so great that such a platform might work. A June 8-11 Gallup/USA Today poll found that among 851 Republicans and Republican-leaning independents, 50 percent said they preferred the type of candidate who would have the best chance of beating Obama; 44 percent would choose a candidate they agreed with on most issues. While the gap between the two options was not statistically significant, it was conservatives who preferred the more-electable candidate by 10 points, 52 percent to 42 percent; moderates and liberals preferred a nominee they agreed with by 8 points, 51 percent to 43 percent.
The obvious danger for Bachmann and Perry is that they might move too far to the right in trying to outflank each other. In that case, whoever wins the one-on-one game could realize only a Pyrrhic victory--unable to make a convincing case that he or she could attract enough moderate voters to defeat Obama. So the question for Bachmann and Perry may be less about how conservative they are and more about where they will end up after fighting it out among themselves.
All of this is purely theoretical, of course. During the 2008 election, one could have easily argued that the marathon battle between Clinton and Obama had the potential to force the victor too far to the left to win a general election. That obviously didn't happen. Perhaps that is because their fight wasn't about who was more liberal. Instead, it was more of a generational clash. Each projected a different vision, with the older Clinton representing a more conventional image and the younger Obama conveying a more inspirational style.
One way of thinking about the fight for the GOP nomination is that, in the end, Republican voters will have a roster of players from which to choose. They can pick an unadulterated conservative or someone who is more pragmatic and less hard-edged. It's an ideological distinction but also very stylistic. One type of Republican is like the golf fan behind the rope at the U.S. Open, politely clapping after a good shot. The other is like a Philadelphia Flyers hockey fan, screaming with eyeball veins on the verge of popping.
Although many Republicans remain less than enthusiastic about the field of candidates, it's still very early. As the campaign engages, the competition more fully develops, and the perceived value of the nomination rises, we might see the roughest, bare-knuckle fight for the GOP nomination in memory.
Image Credit: Sean Gardner / Reuters