The Biblical Implications of Jon Huntsman's Website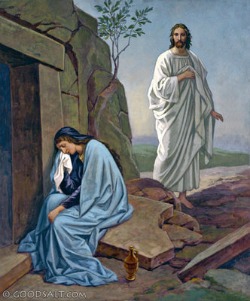 Per this morning's Playbook, Jon Huntsman's official campaign website is going to be www.Jon2012.com. Right now, it's just a "Coming Soon" banner, but by the time he announces his candidacy tomorrow it will be bursting with the usual multi-media features (hopefully not too many). Anyone else puzzled by the biblical allusion in that URL? When I read it, I hear "John 20:12."
Curious about the passage, I looked it up. The King James Bible version: "And seeth two angels in white sitting, the one at the head, and the other at the feet, where the body of Jesus had lain." (If that's too taxing for you, here's the New Living Translation: "She saw two white-robed angels, one sitting at the head and the other at the foot of the place where the body of Jesus had been lying.") Okay, so it's the resurrection. But I was at loss to see any deeper meaning in it.
Serendipitously, my father is a theologian. I put in a call to him. "I'm assuming that's intentional, because otherwise it's an odd thing to call your website," he said. "The passage is the part of the description of the empty tomb. I believe the two angels only appear in the Book of John." And?
He didn't have an and. "A politician would want to associate himself with Jesus Christ, I suppose," he said. "But the passage isn't theologically weighted."
The image of resurrection doesn't make much sense for a first-time presidential candidate like Huntsman. (Although it would suit Mitt Romney rather nicely.) So unlike my dad, I doubt the biblical allusion is intentional. Rather, I think it reflects his big gripe about religion in politics--and also about religion in the media--which is that political consultants, like reporters, are so ignorant of religion that the allusion probably would not even have occurred to them.
Update
: This
blogger argues otherwise
, sees plenty of theological/political import in John 20:12.