Selling John Huntsman, the Un-Republican
The former governor's presidential announcement was preceded by an elaborate marketing campaign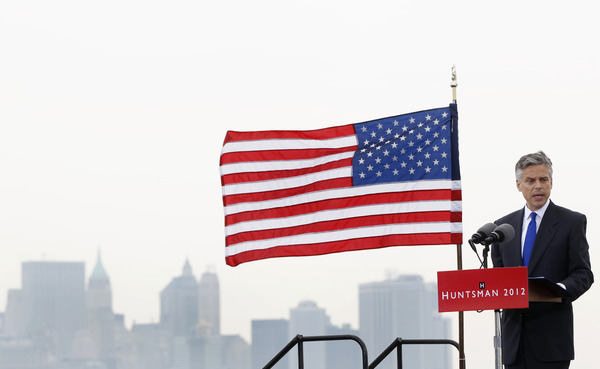 The transformation of Jon Huntsman from improbable presidential hopeful to a formidable contender for the Republican nomination in under eight weeks is something of a marketing miracle.
---
MORE FROM NATIONAL JOURNAL:
Huntsman Plays Up Credentials as He Makes the Rounds on TV
The Comeback Kid?
Trump in 2012: Populist or Manager?
---
Before President Obama's former ambassador to China returned to Washington on April 29, the prospect of the socially moderate Mormon parachuting into the race, stumping among Republican primary voters, and waging an aggressive campaign against his former boss seemed far-fetched.
(RELATED: Huntsman In, With a Twist )
But a campaign-in-waiting was already in place, with veteran political advisers and a well-timed speaking engagement just one week later in South Carolina, which hosts one of the earliest primaries. The time was ripe; many Republican voters were unsatisfied with the current choices, led nominally by Mitt Romney. Skipping nationally televised debates on May 5 and June 13 allowed Huntsman to start building his not-your-father's-Republican brand before rivals tried to define the career politician as anything less than new and exciting.
Three back-to-back trips to New Hampshire proved Huntsman was ready to hit the campaign trail and generated reams of mostly positive publicity. Short videos of a mysterious motocross rider in the rugged Utah mountains highlighted Huntsman's offbeat passion and served as trailers to Tuesday's official campaign launch, which begins in New Jersey and will take him to five more states in four days.
"We're less than 24 hours away from a different kind of candidate for president, someone who doesn't look or sound like everyone else,'' says the introduction to the last of the three videos.
 

Tomorrow from Jon Huntsman Jr. on Vimeo.
More than four decades after Joe McGinnis exposed the Madison Avenue side of campaigns in The Selling of the President 1968, the packaging of Jon Huntsman could be a new success story in product placement. (That is, unless he crumbles like the equally buzzworthy, late-arriving candidate in the 2008 GOP primaries, Fred Thompson.) "He's trying position himself as the un-Cola,'' said Gerald Patnode, a marketing professor at York College in Pennsylvania, recalling the old 7-Up ad. "The rub against Romney is that he has no personality and that he's too stiff, and Huntsman is trying to play off that and show that he's just not another flavor.... It's no different than marketing soft drinks or soap.''
The hype may reveal more about the most unsettled Republican field in decades than it does about Huntsman. Only Romney is making a full-court press for the Republican mainstream, leaving a fractured competition for social conservatives and tea party activists. When Tim Pawlenty balked at confronting Romney on his health care record in last week's televised debate, he unintentionally opened the door for Huntsman - or maybe Texas Gov. Rick Perry, should he decide to run - to rise as a leading alternative to Romney.
(RELATED: Meet the Republican Presidential Hopefuls )
One sign that Huntsman is gaining traction: He's drawing some opposition. A smattering of recent stories raise questions about the business practices of his family's chemical company and about the political action committee started on his behalf while he was still in China. Federal law bars administration officials from engaging in politics.
Huntsman is also starting to get pushback from Democrats trying to tarnish the largely blank slate that is his public profile. The Utah Democratic Party released footage on Monday imitating the former governor's motocross video and mocked: "In 1 day... [Huntsman] has reversed positions he took as governor... riding away from his record.'' (Huntsman has backed away from his past endorsement of cap-and-trade regulations to combat climate change, but he has stood by his support for same-sex civil unions.)
A former Obama administration colleague suggested that Huntsman has been an opportunist. "He was encouraging on health care. He was encouraging on the whole range of issues,'' one of Obama's top reelection advisers, David Axelrod, told CNN on Sunday, relaying a conversation with Huntsman in China in 2009. "I think that what has changed is not his view of the economy, but his view of his own chances to perhaps win the nomination.''
Axelrod's remarks painting Huntsman as a flip-flopper aim to strike at the heart of Huntsman's politics-as-unusual sales pitch.
Moving quickly to boost Huntsman's image as a political outsider, the campaign on Monday posted 89 photographs of him on his Facebook page. There's Huntsman, the casually dressed and devoted husband and father of seven children. And there's Huntsman as dashing diplomat and public servant in a jacket and tie. (Missing are any pictures of him with President Obama.) And of course, there's Huntsman the leather-jacketed motorcycle enthusiast, who recently rode a Harley to a campaign event in New Hampshire.
The campaign's savvy marketing extends to a well-placed interview in Esquire magazine, the Bob Seger-like soundtrack in the motocross videos, and his frequent references to his teenage years in a rock-and-roll band. His target audience of upscale, college-educated professionals is somewhat indifferent to the culture wars over abortion and gay rights and is looking for a political outsider. (Forget that Huntsman no longer lives in Utah but in an affluent neighborhood in Washington, D.C.)
"He's the kind of guy who takes the road less traveled,'' said Rhonda Bentz, a corporate and political communications specialist in Washington who is advising the Huntsman campaign. "He's a different guy and this is a different approach.... The buzz about him is real, and it will continue to build.''
REUTERS/Shannon Stapleton