Ryan's Opponent Promises Big Fundraising Numbers
Democratic contender Zerban challenges the Republican congressman's Medicare booster proposal by way of petition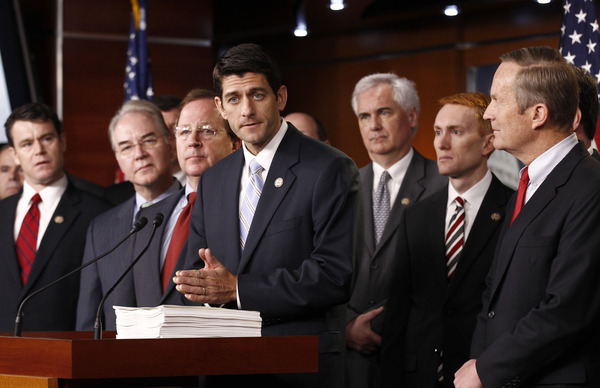 KENOSHA, Wis. -- Highly touted 1st District Democratic recruit Rob Zerban said Tuesday that he will be posting "a big number" when he reports his 2nd quarter fundraising figures to the Federal Election Commission. The second quarter ends on June 30. This will be Zerban's first FEC report, as he announced his campaign in April.
"I think people will be very happy with the number we will be posting for the first quarter reporting period," Zerban said. He would not specify a number, but a Wisconsin Democratic source close to Zerban's campaign said that the 2nd quarter number would be larger than any of the total hauls across an entire cycle from any of Rep. Paul Ryan's (R-Wis.) previous Democratic opponents.
At the end of the first quarter, Ryan had over $3.1 million in the bank, a very healthy sum.
Zerban talked about fundraising after visiting Ryan's Kenosha office to drop off signatures from a petition that goes after the congressman's budget proposal that revamps Medicare. Zerban's campaign collected the signatures with the help of the Progressive Change Campaign Committee.
In a sign of the national network Zerban will rely upon this cycle, of the 65,000 signatures only hundreds were from the 1st District; thousands came from the rest of Wisconsin and the rest of the country.
In a conference call with reporters after delivering the petitions, Zerban said he raised $16,000 this weekend along from 1,400 small donors. Zerban said he was undaunted by Ryan's cash advantage, and pointed to Democrat Kathy Hochul's upset victory in last month's special election in New York as evidence that being outspent by the GOP opponent didn't necessarily matter.
"I think we will have the resources necessary to be able to get our message out," said Zerban, who wouldn't specify how much of his own money he'd be willing to put in. "We'll make sure we have the resources that are necessary to compete and get our message out. We'll reevaluate it as needed."
Zerban, who is a Kenosha County Supervisor and a former catering company owner, is underscoring his small business credentials and going directly after Ryan as he seeks to unseat the seventh-term congressman and chairman of the House Budget Committee.
The 1st District went for President Obama in 2008. He carried 51 percent of the vote while Sen. John McCain received 47 percent. But Ryan outperformed the president in his home district in 2008, winning 64 percent of the vote. And Ryan hasn't won with less than 63 percent of the vote since his first election in 1998 -- an illustration of the tall task Democrats face in unseating the Republican, despite the district's swing tendencies in national elections.
Still, Democrats are bullish about Zerban's chances in the wake of Ryan's budget proposal that revamps Medicare. The proposal became a major part of the campaign in New York's 26th District special election earlier this year, Hochul and her allies hitting her GOP opponent Jane Corwin for supporting the plan.
In many races, Republicans have passed on chances to take yes/no positions on the Ryan plan, instead pivoting to arguments that they would formulate their own plan, or offering praise of portions of Ryan's proposal. One major difficulty Republicans face is explaining the complex measure to voters.
Former Rep.Tom Davis (R-Va.) speaking at a roundtable discussion with reporters last month put it this way: "One Member -- who will remain unknown -- in the conference, says, well Paul, I agree with this; can I take you with me to my district to explain it? Because you understand it and can explain it, but this is not easy stuff."
Running against a message may have presented an opportunity for Zerban, but running against the messenger himself may be his biggest challenge.
"The non-partisan Congressional Budget Office confirmed last week that Medicare's trust fund will be exhausted in 2020 and experts have stated that the only thing that ends Medicare is the status quo," Ryan's campaign said in a statement.
"The House passed-budget, the Path to Prosperity, saves Medicare from bankruptcy securing and strengthening it for current and future generations. It has been 790 days since the Senate passed a budget and the President has offered speeches rather than serious proposals at a time when we need real solutions, not false rhetoric. Residents of the First Congressional District deserve answers on how we can meet our nation's most pressing economic challenges and Congressman Ryan will continue to provide that leadership in the House of Representatives."
For more on Zerban, check out Jessica Taylor's recent profile of the Democratic hopeful.--Jessica Taylor contributed to this post

Image: REUTERS/Kevin Lamarque