Romney Will Skip All Primary Straw Polls
After sinking money and resources into them in 2008, the former Massachusetts governor won't participate in any of the informal contests this time around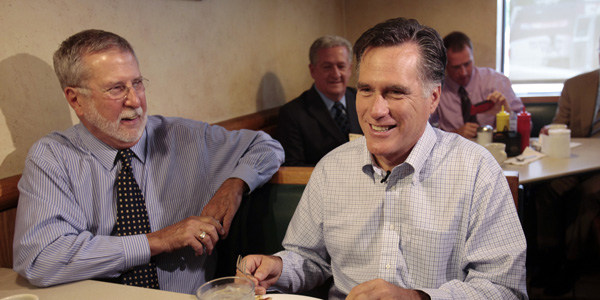 Mitt Romney's campaign has just confirmed that the presumed front runner in the 2012 presidential campaign will not be participating in several high profile straw polls this year, prompting immediate pushback from at least one state party chairman.
Romney plans to take a pass on contests in Iowa (where he hasn't seemed prepared to compete anyway), Florida and Michigan.
Here's the statement from Matt Rhoades, Romney's campaign manager:
"Our campaign has made the decision to not participate in any straw polls, whether it's in Florida, Iowa, Michigan or someplace else. We respect the straw poll process. In the last presidential campaign we were both strengthened as an organization and learned some important lessons by participating in them. This time we will focus our energies and resources on winning primaries and caucuses. We look forward to bringing Mitt Romney's strong pro-jobs message to every part of the country."
That rationale did not impress Iowa GOP Chairman Matt Strawn, who suggested that Romney was sabotaging a key party-building event.
"I'll leave it to the pundits and voters to assess the wisdom of skipping an event of tremendous importance to tens of thousands of Iowa Republicans and caucusgoers," Strawn said in a Thursday night statement. "More than ever, Iowa Republicans are energized and motivated to utilize the Ames Straw Poll as a catalyst toward building a 99-county organization to deny President Obama a second term."
The decision may reflect smart priorities -- Romney won the Iowa straw poll in 2007 but lost the caucuses the following year and went on to lose the nomination -- but it will disappoint Republican activists in the three states, who look forward to the attention lavished upon them by straw vote seekers. It's also another sign that Romney views himself as a front runner, with little to gain and plenty to lose by participating in a symbolic contest.
Romney's campaign released statements from Republican leaders in the three states defending his decision. Typical was this comment from Saul Anuzis, a Republican National Committeeman from Michigan and this state's former GOP chairman: "The campaign's decision to not participate in any straw polls is a strategic decision on their part. Straw polls are an expensive proposition and they have decided to focus their resources on primary day. I can respect that."
Image credit: Rebecca Cook/Reuters