Rick Perry's Presidential Strategy
An interview with the Texas governor's top political strategist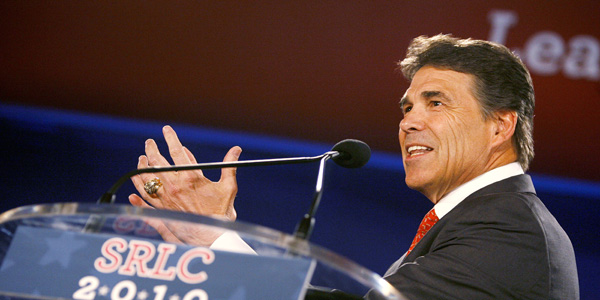 Texas Gov. Rick Perry is still weeks away from a decision on joining the 2012 Republican presidential race, but his camp has already made some key decisions about how he would run if he does, according to his top political adviser.
If Perry enters the race, he is determined to compete in all parts of the country--including areas that historically haven't been as welcoming to Southerners, said David Carney, the governor's longtime chief strategist, in an interview. That intention to compete everywhere looms as an important factor in Perry's deliberations, Carney told National Journal. One of the "dilemmas," he said: Whether Perry and his team have enough time to raise the funds and build the organization to support a national campaign.
"You can't just say, 'I am going to win South Carolina'; you have to try to be competitive everywhere," Carney said. "This is not a two-state strategy. We [would] need to raise money to be in there for the long haul."
---
MORE FROM NATIONAL JOURNAL:
5 Things Michele Bachmann May Want to Un-Say
Wisconsin Cuts Funds to Planned Parenthood
Bachmann's Credibility Gap
---
Another key element of the as-yet preliminary Perry campaign plan: To direct his attacks from the outset at President Obama, not his potential Republican rivals.
"We are not going to run against the other candidates," Carney said. "If he runs, he will be out there campaigning on what he would bring to the table in terms of running against Obama."
Carney's prediction is somewhat surprising after Perry's forceful, even confrontational, speech to the Republican Leadership Council in New Orleans earlier this month.
In that address, widely considered a road test of a possible presidential message, Perry positioned himself as an unequivocal defender of conservative values while implying that other Republicans had been too willing to compromise them. "Our party cannot be all things to all people," Perry insisted in the signature line of his address. "It can't be. Our loudest opponents on the left are never going to like us, so let's stop trying to curry favor with them."
In the interview, Carney acknowledged that "there will be a real campaign and there would be some interplay" among the candidates over their records and proposals. "If we get in the race, we will campaign on our agenda and our record and defend it," he added.
(GRAPHIC: Who's In? Who's Out? And Who's on the Presidential Bubble?)
But while the media will highlight the relatively few policy disagreements among the hopefuls, Carney said, "the candidates agree on 90 percent of the ideas on the economy." As a result, he argued, Republican voters will focus less on policy differences among the candidates than on their ability to deliver a strong case against the president.
"Voters are going to look for somebody not to beat one of the other candidates but to beat Obama," Carney said. "Our mission would be to get out there and basically demonstrate our ability to take the wood to Obama and do it in a way that isn't personal, but based upon policies and results and a vision for where the country should be."
Some Republican consultants are skeptical that Perry, with his pronounced Texas swagger, unwaveringly conservative policy positions, and ideologically charged rhetoric, can generate much appeal to Republican primary voters along the coasts or throughout the Northeast; he could also face doubts among activists about his ability to effectively contest those regions in a general election if he won the nomination.
But Carney was emphatic in insisting that Perry, if he runs, would compete throughout the country during the primaries, rather than focusing principally on the South or even a broader landscape of socially conservative states. "I don't think anybody in the governor's world would recommend that we run some regional strategy or we pick and choose," Carney said. "If you are running for president of the United States and you want to be the Republican nominee, you want to be the nominee for all Republicans. You need to take your messages everywhere."
Carney, who is based in New Hampshire and has long connections in GOP politics there, was especially pointed in declaring that Perry would seriously contest the Granite State's first-in-the-nation primary if he runs. Historically, Southern candidates from both parties have struggled to establish a cultural connection in New Hampshire--either with the state's flinty small-town voters or its growing population of white-collar suburbanites near the Massachusetts border.
The challenge has been especially pronounced for Texans: John McCain routed then-Texas Gov. George W. Bush in the 2000 New Hampshire GOP primary; former Texas Gov. John Connally won less than 2 percent of the vote in the 1980 GOP contest; and Texas Sen. Phil Gramm, once considered the chief rival to eventual nominee Bob Dole, captured a grand total of 752 votes in the 1996 Republican race there.
But Carney said, "Small government, personal responsibility, and jobs would resonate with New Hampshire very well. I think Gov. Perry would be well-received in New Hampshire."
Image credit: Sean Gardner/Reuters