Rick Perry's Populist Attack on TSA Frisks
His effort to end enhanced pat-downs at Texas airports is a publicity stunt that's doomed to fail. Here's why we should celebrate it anyway.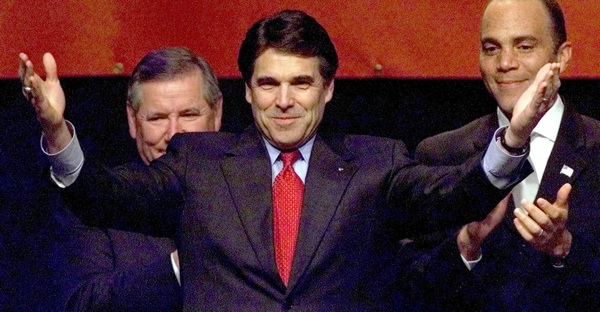 A few months ago, Republicans in the Texas legislature introduced a bill that would've made it illegal for TSA agents to perform enhanced pat-downs on air travelers without probable cause. The anti-groping measure had enough support that the feds feared it might become law. So they sent a letter to the Lone Star State threatening to ground all flights at its airports if it passed.
The intimidation tactic succeeded: The bill's sponsor withdrew the legislation. As Texas Gov. Rick Perry ponders a presidential run, however, he's decided to revive it. The Houston Chronicle reports:
Gov. Rick Perry announced he had added legislation that would make it illegal for TSA agents to engage in "intrusive touching" at airports security checkpoints without probable cause to the list of items for the legislature to consider during the special session.

The measure had previously failed to muster enough support in the Texas Senate to come up for a vote because the Justice Department wrote a scathing memo against the bill, which threatened legal action against the state, and the measure became enmeshed in Senate politics.
Threats from the federal government remain an obstacle to passage, and if the bill became law it would almost certainly be challenged in federal court. Even if this is just a publicity-seeking stunt, however, it's nice to see that it is suddenly good populist politics to push back against War on Terror national-security excesses. It isn't so long ago that a red meat Texas Republican wouldn't dream of doing such a thing -- during the Bush era, the populist bet was to back ever more "measures to keep us safe."
The right and left often disagree about federalism. Its critics harken back to the ugly days when "states rights" were asserted to subjugate black people. In the American present, however, state efforts that arguably constrain liberty -- get tough immigration bills that impose burdens on American citizens, for example -- are arguably less common than efforts to increase the liberty of citizens, whether to medicate themselves with marijuana during illness or end their lives in a manner of their choosing or marry the person they love regardless of gender or pass through airport security without the long arm of the law creeping methodically up their thigh.

In his role atop the Texas criminal justice system, Gov. Perry has shown that he isn't a consistent friend of liberty, most egregiously when he oversaw the execution of a man whose guilt was reasonably doubted by many. But his latest effort, however doomed, is to be celebrated. It suggests Americans are looking at national security in a healthier way, and that the trend of liberty-expanding federalism is continuing.
Image credit: Reuters
Drop-down image credit: Reuters