Rick Perry's Moral Problem
The Texas governor deserves scrutiny for his oversight of the state's death penalty regime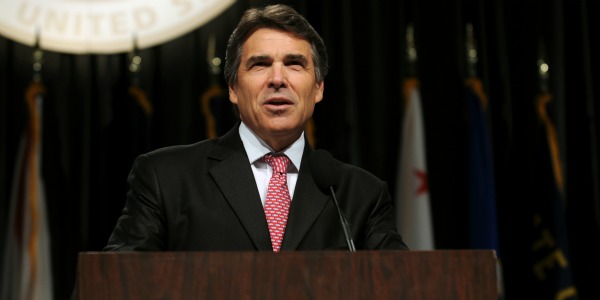 Texas governor Rick Perry, the latest Republican presidential It Boy, is a self-styled moralist who wants his fellow Republicans "to stop apologizing for celebrating life." When did they ever start? And who asked them to apologize for harboring sincere religious or moral objections to abortion anyway? (Abortion rights activists just want them to stop imposing their beliefs on the rest of us.) What we do need to hear from Perry, however, is an apology for celebrating death.
Texas has long been a leader in executing people, and Perry has presided over some 200 executions during his tenure as governor. The most notorious of these was the execution of Cameron Todd Willingham, whom any just system would have exonerated, as David Grann demonstrated in the New Yorker. Grann's 2009 article brought some unwelcome publicity to the Texas death penalty regime, the immorality of which Perry confirmed; he had denied the defense a brief stay of execution citing gross evidentiary errors by the prosecution, and after Willingham's death, he obstructed an investigation of the case.
Senator Kay Bailey Hutchinson cited Perry's role in this execution and cover-up in her unsuccessful 2010 primary campaign against him. So far, however, it has not generally been seen as a potential problem for a Perry presidential bid. This opinion piece in the L.A. Times is one exception to mainstream political coverage that has generally focused on Perry's appeals to culture warriors, his fundraising prowess, and claims about the Texas economy; his liabilities are said to include questions about whether voters are ready to send another Texas governor to the White House and the state's public education's failures.
Perry's record is sure to be extensively critiqued on the left if he continues to attract attention as a possible presidential candidate. Rachel Maddow has already attacked his economic failures and hypocrisies; the stories of Willingham and other death penalty victims are bound to be reviewed. But, on the right, for godly voters supposedly seeking a moral leader, the silence on Perry's complicity in a casually corrupt criminal justice system is damning.
It's worth recalling that George W. Bush's approach to the death penalty briefly became an issue in the 2000 presidential race when Tucker Carlson reported (in short-lived Talk magazine) that Bush had mocked born-again killer Karla Faye Tucker's plea for clemency. (A few years later, Alan Berlow's Atlantic article exposed the cavalier treatment of clemency appeals by then-governor Bush and his legal counsel Alberto Gonzales.) Rick Perry's fatal disdain for justice demands more than equal scrutiny from activists, right and center, who value their own moral purity.
Image Credit: Wikimedia Commons