Picture of the Day: Topless Newt Gingrich on a Rock? Or Random Guy?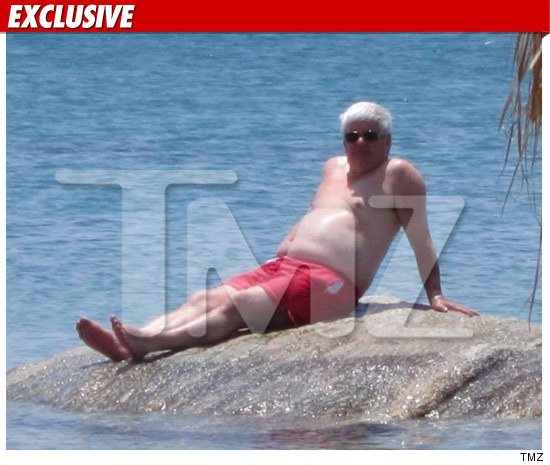 Updated 5:10 p.m. --
This photo, via celebrity news site TMZ, was taken on June 2 and purported to show the 68-year-old former speaker of the House "chilled out on Paradise Beach on the island of Mykonos." His staffers quit en masse just days later.
But Joe DeSantis, who works for Gingrich and has co-authored a book with him, says that it is not in fact the presidential candidate. "Just asked Newt...the picture on TMZ is not him...remarkable resemblance though," he tweeted.
That led Washington Post reporter Rachel Weiner to quip, "Anticipating a tearful Newt press conference later this week where he admits the photo is of him after all."
Photos of presidential candidates in bathing trunks are pretty commonly snapped by the celebrity press these days (Obama underwent a round of beach scrutiny in early 2007) and there also are a fair number of pictures of the later 20th century presidents in the historical archives in which they wear nothing but swimming shorts.
Add this latest twist to the events of the past two weeks though -- a period in which Rep. Anthony Weiner baldly lied about sending a lewd picture and said he did not know if it was a picture of himself; two straight American men were uncovered falsely posing online as lesbian bloggers, one Syrian and allegedly kidnapped; and it was reported that the man riding the motorcycle in the latest Jon Hunstman ad is not the candidate -- and it seems clear that we've gone back to the future on questions about what is and is not real online.
The gossip website took the picture down some time Wednesday. "They took it down when they realized it wasn't Newt," Gingrich spokesman R.C. Hammond told Hotline On Call.
Image via TMZ