Picture of the Day: Obama Meets With Bahrain's Crown Prince
Since the island nation cracked down on pro-democracy protesters and declared a state of emergency, the U.S. alliance has come under scrutiny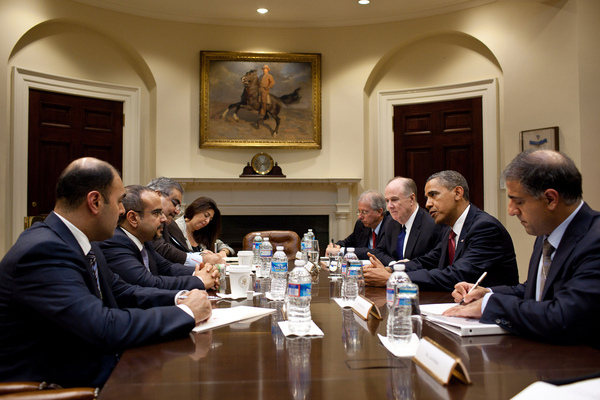 Obama met Tuesday with Bahraini Crown Prince Salman bin Hamad bin Isa al-Khalifa at the White House, though the meeting wasn't on Obama's daily schedule. An administration official told the Wall Street Journal that Obama would "drop by" a meeting between Salman and National Security Adviser Tom Donilon. Crown Prince Salman heads Bahrain's defense force and is reportedly known as a liberal reformer within Bahrain's ruling family.
The Obama administration's continued alliance with Bahrain has come under scrutiny during the wave of Arab Spring protests, as the island nation's government cracked down on pro-democracy protesters, first opening fire on them in March and imposing a state of emergency that ended last week, with Bahraini King Hamad bin Isa al-Khalifa calling for a national dialogue on reform. Bahrain grants the U.S. military access to its facilities; the nation serves as headquarters for the U.S. Navy's Fifth Fleet.
Above, Obama sits directly across from Salman, next to Donilon. From CNN's report on the meeting:
"President Obama's support and understanding regarding Bahrain's forthcoming national dialogue were most welcome, as were his comments on the circumstances required to ensure its success," Crown Prince Salman said in a prepared statement. ...

Obama had a "productive discussion" with the crown prince on Tuesday, the White House said. He "reaffirmed the strong commitment of the United States to Bahrain" and said both the government and the opposition must compromise.
Image credit: White House photographer Pete Souza