Picture of the Day: House Republicans Tromping to the White House
Obama invited the GOP Conference over to talk about spending and debt. They made the trek this morning amid sweltering humidity.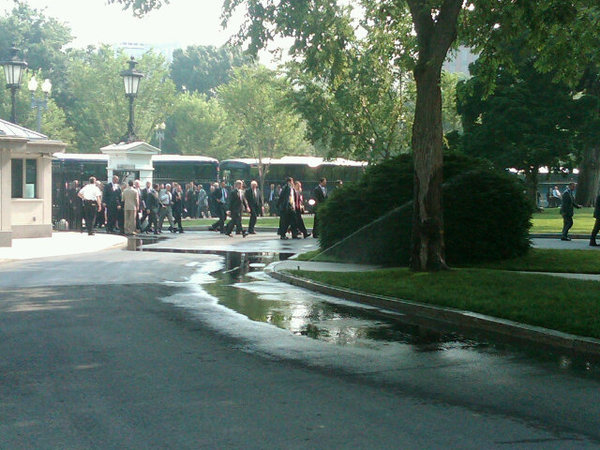 President Obama invited all 239 House Republicans to the White House for a meeting on spending and debt, and almost everyone took him up on it. Above, the besuited GOP lawmakers arrive in buses and tromp up the asphalt path to the White House entrance on an  85-degree and humid Washington day.
As National Journal's Rebecca Kaplan points out, they look kind of like tourists, but with more suits and less gawking. (Also: None of them appear to be carrying cameras.)
After the meeting, Republican leaders held a a news conference outside the White House and described the gathering as positive. Republicans had urged the president to work with them to confront America's debt crisis, House Speaker John Boehner said.
In an unsurprising vote last night, House Republicans rejected a plan to raise the federal debt limit without other spending cuts attached, a plan President Obama has pushed for. In doing so, they set the table for a coming debate over what those spending cuts will look like.
Image via @beccakaplan