There was no red carpet, but Sarah Palin still stole the show. Now her supporters want to know: Will she run?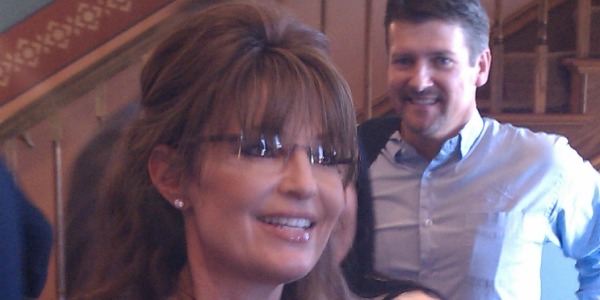 PELLA, IOWA -- Late in the afternoon, Democrats and other non-fans of Sarah Palin cleared out of downtown as a horde of supporters (and journalists) descended on the historic Pella Opera House for the Iowa premiere of "The Undefeated," filmmaker Steve Bannon's biographical movie of Palin. Just after 5 p.m., Palin and her husband, Todd, both smiling and dressed casually in jeans, arrived and ambled down Franklin Street greeting well-wishers. The event had the air of a revival; supporters had come from as far away as Dallas and were rapturous at the sight of their shepherd.
Earlier in the day, Palin's daughter had let slip in a television interview that her mother had made up her mind about a presidential run--but didn't say which way she was going to go. Before the heading into the theater, Palin
spoke to reporters
, but she didn't let on much either: "I told Bristol, too, what is talked about on the fishing boat stays on the fishing boat."
Then it was on to the show. Bannon made brief remarks about the making of "The Undefeated" and paid homage both to Pella's and to Palin's authenticity: "The hard-worn bricks outside the Pella Opera House are all the red carpet she needs." After a prayer, the Pledge of Allegiance, and spirited renditions of "The Battle Hymn of the Republic" and "This is My Country," the lights went down and the movie began. The crowd thrilled to the celebration of their hero and seemed pumped up by the film's dramatic imagery--volcanoes, earthquakes, snipers, ferocious lions, and clip after clip of Palin fighting back against her sundry enemies. (Subtlety isn't part of the Bannon arsenal.) When Palin, in the film, declared "We are an exceptional country and that is not something to apologize for," the audience broke into whoops and cheers.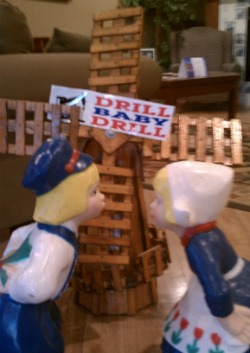 Then the lights when up, and the director, producers, and star took the stage to a standing ovation. Palin gave a brief, peppy stump speech and took a few swipes at the "lamestream media" before leading the crowd out of the theater and around the block to a giant barbecue (that, from the looks of it, attracted several hundred more revelers). Everyone look relaxed and happy and very pleased to be there.
There were, among the audience, I discovered, several--gasp!--liberals. To Bannon, this was good news. He told me that he hopes his film will inspire independents, conservatives
and
liberals to support Palin--and
there are indeed aspects of Palin's career
that could do so. But the liberals I spoke to afterward weren't yet persuaded. "I wasn't blown away," said Pat Schacherer, a young Pellan who'd scored tickets from a friend's mother and revealed that many of his like-minded college buddies had attended and were similarly unpersuaded. "The film lacked substance." Most of the crowd, however, seemed to love it.
Palin appears to have come to Pella primarily to support Bannon's film and cheer on her supporters. She didn't drop any overt hints about the presidency that I picked up on, besides pledging to devote "110 percent" to Iowa if she did run. Even so, crowd members kept approaching her and urging her to run, and after seeing the film, those feelings seemed only to intensify. There can be little doubt that if she does decide to run, Palin won't lack for committed Iowans. Several that I spoke to were skipping the barbecue to attend Tea Party caucus training sessions.
One of them, Craig Bergman, a burly, cowboy-hatted gentleman from Des Moines, was plainly inspired by what he saw. He sought out Palin's aide, Rebecca Mansour, and, grinning widely, exclaimed, "Now all she has to do is run!" I asked if he thought she would. "Look, there has never been a weaker field," he told me. "If she doesn't run, we're going to nominate one of the three stooges--Romney, Pawlenty, or Perry--and they're going to lose to Obama. That will ruin the party." The people around us nodded in agreement. I departed thinking that if Palin gets in, she'll have many energetic supporters--and that if she doesn't, she'll draw one heck of a backlash.