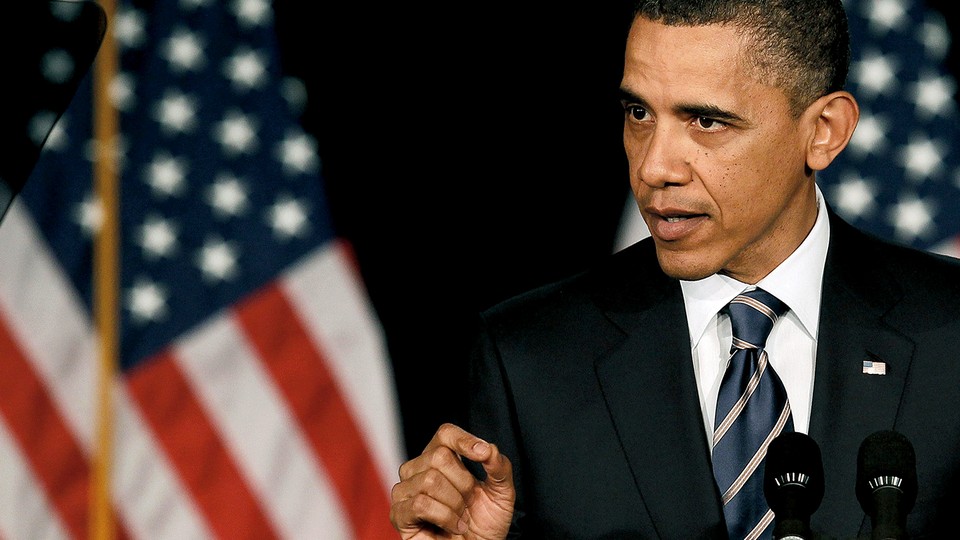 Like the economy, President Obama continues to inch toward recovery in the latest Allstate/National Journal Heartland Monitor survey. But the poll also underscores the political risks he still faces.
From National Journal:
PICTURES: Latest in Long List of Political Sex Scandals

Could There Be a Republican Surge In Weiner's District?

Don't Panic: U.S. Growth is Slow and Volatile

VIDEO: Romney's Ideal 2012 Presidential Field

30-Year War: Effect of Legislation on AIDS
In the survey, Obama's job-approval rating reached 51 percent, with just 41 percent disapproval. That was the first time he has crossed the critical 50 percent threshold in a Heartland Monitor poll since September 2009. It was also the smallest disapproval rating he has recorded since then.
Looking below those numbers, the poll reflects an array of positive, if moderate, trends in the president's favor. His job-approval rating amongindependents reached 54 percent, the first time it has exceeded 50 percent in the Heartland Monitor since July 2009. His approval rating among whites rose to 43 percent, the first time it has topped 40 percent since September 2009.
That gain was relatively broad-based, with approval of Obama rising slightly among both college-educated whites and those without college educations. He registered his biggest improvement among one of the few groups in the white electorate that he carried in 2008: white women who hold at least a four-year degree. His approval rating with them spiked to 56 percent, his best showing in two years. Also good news for Obama was his 65 percent approval rating among Hispanics, which approximates the level of their vote for him in 2008; other national polls have shown him with lower ratings among that group.
Obama also continued to close the intensity gap. At his low point in the Heartland Monitor last August, the share of Americans who strongly disapproved of his performance (39 percent) was about one-and-a-half times larger than the share that strongly approved (25 percent.) Now, he has climbed back to nearly even, with 27 percent strongly approving and 28 percent strongly disapproving. (Among whites, those indicating strong disapproval still outnumber their strong-approval counterparts by almost 2-to-1.)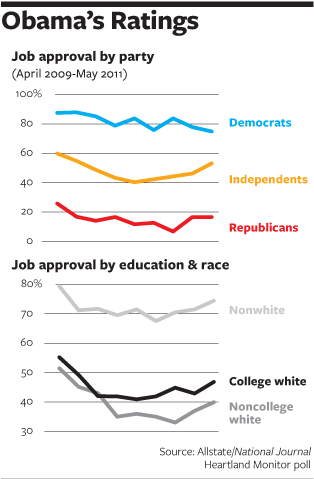 Most political scientists agree that a president's approval rating is the best barometer of his reelection chances, but Obama also enjoyed some improvement on a directly related question. Forty-two percent of those polled said they would definitely or probably vote to reelect him, while 47 percent said they would definitely or probably vote for someone else. At Obama's low point last August, only 39 percent said they intended to vote for him, while 52 percent were inclined to support someone else.
One other result suggested a slight lift for Obama. Although just 9 percent of those polled expected the economy to significantly improve over the next year, another 51 percent said they anticipated that it will revive at least somewhat. At the other end of the spectrum, 20 percent of respondents thought it would be somewhat worse and 12 percent thought it would significantly decline. All of those numbers are more positive than last August, the last time the Heartland Monitor tested that sentiment.
But other results underscored the headwinds still battering the president. Just 28 percent of adults said they believe that the country is on the right track, while 58 percent said it is on the wrong track — a finding virtually unchanged over the past six months. In the new poll, whites were three times more likely to say the country is on the wrong track; even a plurality of Hispanics said they think the country is moving in the wrong direction. Responses to this question have also proven a powerful predictor of voting preferences in presidential elections.
Assessments of Obama's agenda did not show the same improvement as the grades on his performance — which suggests the latter measure was heavily influenced by the successful raid in Pakistan that killed Osama bin Laden. Indeed, in the survey, the percentage of adults who said Obama's agenda would increase opportunity for people like them dropped to 29 percent. That change is still within the margin of error of the March survey's 31 percent, but it is nonetheless the lowest number the poll has recorded for Obama. Another 32 percent said Obama's agenda would decrease their opportunities, while 31 percent said it would have no impact.
Racial differences on this question are stark. Two-thirds of African-Americans said that Obama's agenda will increase their opportunities, while just 4 percent said they think it will diminish their chances. Among Hispanics, the comparable numbers are 41 percent positive and 15 percent negative. With whites, the proportions flip: Just 22 percent believe Obama's approach will expand their opportunities; but fully 40 percent say it will diminish their chances. Just as often, working-class whites were the most negative.
Respondents were about evenly divided over whether they place more trust in Obama (40 percent) or congressional Republicans (37 percent) to develop economic solutions. In the first Heartland Monitor poll in April 2009, Obama led the GOP by more than 2-to-1.
And Obama retains only a slim advantage on the survey's broadest question, which asked respondents to assess the overall impact of his policies. Thirty-five percent said the country is significantly worse off because of his policies; just 12 percent say the nation is significantly better off. The remaining 46 percent say that the country is not better off yet but is moving in the right direction because of Obama's policies.
That equivocal group — whose size has barely budged in any Heartland Monitor survey since April 2010 — could hold the key to Obama's fate. In the latest poll, about three-fourths of them said they approve of Obama's job performance, but only two-thirds of that group indicated that they now plan to vote for his reelection. That slight falloff might not matter much if events over the next 18 months significantly enlarge either the group that sees unequivocal benefits or damage from Obama's agenda. But if the country remains as closely divided over the president as it is in this latest survey, he'll need to squeeze every last vote from those who still see in him a reason for hope — even if they don't yet believe their faith has been entirely rewarded.
________________
Want the news first every morning? Sign up for National Journal's Need-to-Know Memo. Short items to prepare you for the day.