Obama's Ratings Rise to Near-2008 Levels
College-educated white women, working-class white men, and Hispanics are coming back to him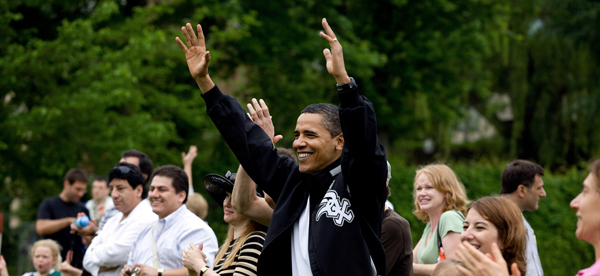 Pete Souza/White House
Among favorable and unfavorable groups alike, President Obama's approval ratings in the latest Allstate/National Journal Heartland Monitor poll are returning to the levels of support he attracted in his 2008 election, though the headwinds of economic slowdown will challenge his ability to hold those gains.
In the survey, Obama's approval rating reached 51 percent. That's his best showing in the quarterly Heartland Monitor poll since September 2009, and a level just below the nearly 53 percent of the vote he won in 2008.

The latest Heartland Monitor, conducted by FD, a communications consulting firm, surveyed 1,000 adults May 18-22. It has a margin of error of plus or minus 3.1 percentage points. The poll was conducted before Friday's report of disappointing job growth in May.
As this chart shows, Obama is tracking back toward his 2008 number not only in his overall level of support, but in his standing among key demographic groups--including both those who supported and resisted him last time. In most instances, this convergence reflects a steady increase from Obama's nadir in the Heartland Monitor survey last August, when his overall approval rating dipped to 46 percent. That was his lowest showing since the poll began in April 2009.
That modest but steady recovery has been equally evident among several of Obama's best and worst groups. For instance, his approval rating among college-educated white women--who gave him a 52 percent majority of their votes in 2008--has revived from 46 percent last August to 56 percent in the latest survey. Likewise, he's recovered among independents from 43 percent then to 54 percent now, and among Hispanics from 53 percent last summer to 65 percent in the latest poll. Each of those results returns him close to his 2008 showing with those groups.
Obama has seen comparable improvements in the poll among groups more dubious of him. His approval rating among white men without a college education--one of his toughest audiences since his emergence as a national candidate--has improved from 30 percent last August to 38 percent now, essentially even with the 39 percent of them he carried in 2008. He has recorded similar gains among whites aged 30-44--families in their prime child-rearing years--also placing him back at his vote level with them in 2008.
Obama's approval ratings now lag his 2008 vote only among a few major groups. His approval rating among self-identified Democrats in the latest survey ran 13 percentage points below his showing among them in 2008. Given the historically high levels of party loyalty evident for both sides in recent presidential elections, that gap isn't likely to persist through 2012. (In the same vein, Obama's 17 percent approval rating among Republicans isn't likely to translate into nearly that much support from them next year.)
Perhaps more worrisome for the president is his slipping numbers among young people, who continue to suffer elevated unemployment rates as the economy trudges toward recovery. In 2008, Obama won 66 percent of all voters under 30; his approval rating with those young people sagged to 56 percent in the latest survey. Among whites under 30, Obama's approval rating now stands at 44 percent--also down 10 percentage points from his 54 percent share of the vote with them in 2008.
Another worrisome sign for Obama: Assessments of his agenda haven't seen as much improvement as judgments about his job performance. In the survey, just 22 percent of whites, for instance, said that Obama's agenda was increasing opportunity for people like them. That's the lowest figure for Obama among whites on that question the Heartland Monitor survey has ever recorded.
All of those results suggest Obama's job performance gains might have been heavily influenced by the successful raid last month that killed Osama bin Laden. And that means his improvement may be highly vulnerable to shifts in economic attitudes. In the survey, almost twice as many adults said they expected the economy to improve than to worsen over the next year. Sixty-nine percent of the optimists said they approved of Obama's job performance--compared to just 20 percent of the pessimists. If the downpour of disappointing economic news in recent weeks shrinks the former group and increases the latter, the approval gains the president enjoyed in the latest Heartland Monitor may quickly dissolve.
Drop-down image credit: Reuters