New York Legislature Legalizes Gay Marriage in 33-29 Vote
Four Republicans joined all but one of the state's Democrats to pass the bill in Albany 33 to 29 in a late vote on Friday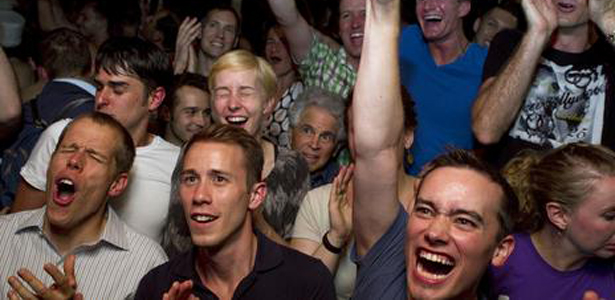 The crowd outside of the normally somber state senate chambers in Albany erupted in cheers of "USA! USA!" after New York legislators passed a bill in a late session on Friday evening to legalize gay marriage across the state, according to the New York Daily News. With the bill, which passed 33 to 29, New York joins Vermont, New Hampshire, Connecticut, Massachusetts, Iowa and Washington D.C. in recognizing gay marriage in the United States.
"As I have said many times, this is a very difficult issue and it will be a vote of conscience for every member of the Senate," GOP majority leader Dean Skelos told the Daily News. And indeed it was. After the Assembly passed the marriage equality bill for the fourth time in as many years last week, a number interested parties mobilized, working either for or against the passage of the bill and trying to bring as many lawmakers into their camp in as few days as possible.
As of last night, it didn't look like the bill was going to pass. Only two Republicans had voiced their intention to vote aye at that time, bringing the total number of supporters to 31 -- just one shy of the 32 required for passage. But a few senators were still undecided, including Stephen Saland whose wife has always been seen as sympathetic to the cause. "While I understand that my vote will disappoint many, I also know my vote is a vote of conscience," Saland told the Associated Press before entering the chamber to voice his support in a speech that brought gay onlookers to tears. "I am doing the right thing in voting to support marriage equality."

In the end, 29 Democrats voted for the bill, which was sponsored by openly gay Democrat Tom Duane. They were joined by four Republicans. Before the vote, Duane was allowed to introduce the bill, which he did "with a tearful speech detailing his life from when he came out to his Catholic parents as a teen to his adult life fighting for gay rights," Politico reported. "He spoke of how his young nieces and nephews already consider he and his partner married, even if they are not in the eyes of the law."
Soon, though, they can be. The bill will become a law in 30 days after Gov. Andrew Cuomo signs it into effect.  And sign he will: The passage of this bill is a significant political victory for Cuomo, who has traveled the state in recent weeks in an attempt to rally support for it.

Only one senator in the chamber took the time to speak out against the bill. Bronx Democrat Ruben Diaz Sr., the only Democrat to vote against the bill's passage, blamed Republicans for its success on Friday night. "It is unbelievable that the Republican Party, the party that always defended family values ... is allowing a Democratic governor to divide the Republican Party and the Conservative Party," he said. "Same-sex marriage has been rejected by the majority of Americans when given the opportunity to vote for it."

For many supporters of the bill, its passage has been a long time coming. It was just two years ago that a bill to legalize gay marriage was defeated in New York's then Democrat-controlled legislature. "I'm verklempt," assemblyman Matthew Titone told the Daily News. "I'm still in a state of disbelief." Titone is one of five state lawmakers that is openly gay.

Image: Reuters.