New Film Paints Favorable Portrait of Sarah Palin
"The Undefeated," which will screen in Iowa and New Hampshire before opening nationwide next month, doesn't purport to be objective in its quest to improve the former governor's image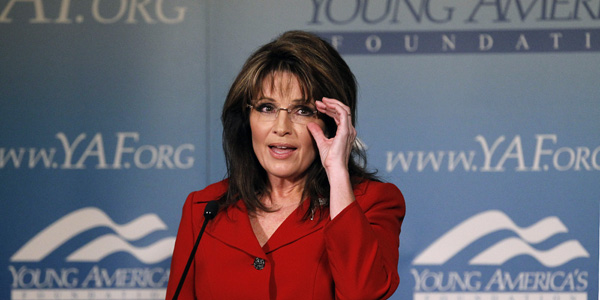 A maverick politician who successfully challenged big oil companies and a corrupt Republican political establishment: That's the Sarah Palin portrayed in a documentary debuting this month in three states that hold early and critical votes in the presidential nominating process.
---
MORE FROM NATIONAL JOURNAL:
Airport Body Scans Get Less Personal
Social Conservatives Don't Mind Focus on the Economy
John Boehner: A Kinder, Gentler Speaker?
---
"The Undefeated," a two-hour film by Stephen Bannon, a maker of conservative cult classics, aims to rehabilitate what Bannon described as the "Caribou Barbie" image of Palin as she flirts with a run for the presidency. The 2008 GOP vice presidential nominee is one of the best-known Republicans in the field, according to a recent Pew poll, but 63 percent of respondents said they wouldn't vote for her.
(PICTURES: Following Palin's 'One Nation' Bus Tour)
The movie does not purport to be objective: All of the interviews are with Palin loyalists. They present a flattering picture of Palin's unlikely rise from a blue-collar housewife to governor of Alaska (knocking off two much better-known politicians in the process) and her efforts to reform a political culture awash in oil money.
By focusing on her career as an Alaska politician, Bannon presents a sharply different image than the one Palin created for herself in the national arena. The candidate known for her "Drill, Baby, drill" mantra comes off in the movie as an environmentally-minded populist who fought successfully to impose a significant corporate tax hike on oil companies. One of President Obama's sharpest-tongued critics is depicted, in Alaska, as a non-partisan reformer who convinced Democrats as well as Republicans to back her reform measures.
Nothing about the film's rollout, which includes early screenings in Iowa, New Hampshire, and South Carolina before a commercial opening nationwide next month, will dampen the presidential speculation that Palin stoked last week with a high-profile bus tour that included a stop in New Hampshire, home of next year's first presidential primary.
(PICTURES: Meet the GOP's 2012 Presidential Hopefuls)
Bannon told reporters who screened a rough cut of the film in Washington last week that Palin had no editorial control over the movie. But she cooperated in its making, giving Bannon extensive access to friends and family. The movie includes never-before-seen family photos and home movies of Palin as a youngster, obtained, Bannon said, from her parents. Also featured extensive commentary by Palin's normally tight-lipped aides and former associates.
The story of the movie's genesis reveals a longstanding effort by the Palin camp to find ways to burnish her image. Palin aides Tim Crawford and Rebecca Mansour initially approached him last fall about creating a series of YouTube videos on the former governor, Bannon said. He countered with a proposal to make a feature-length film. Bannon said he sought no participation from Palin but did ask her to give associates the green light to speak with him.
The 2008 GOP vice presidential nominee was "blown away" when she screened the results two weeks ago in Phoenix, said Bannon. He said the screening took place at about the same time Palin, in an May 19 interview with Fox News, said "I do have that fire in my belly" for a presidential race. But the former Alaska governor said she has not yet decided whether family considerations might override political ambition.
"I certainly hope she considers it," said Bannon, whose last movie, "Fire in the Heartland," featured one of Palin's potential rivals, Rep. Michele Bachmann, R-Minn., along with other women tea-party activists.
Using Palin's own voice -- from the audio version of her best-selling memoir "Going Rogue" -- interspersed with those of friends and aides, the movie describes Palin as having been inspired to enter politics by the 1989 Exxon Valdez oil spill, which fouled Alaska's coastline and disrupted its fisheries with 11 million gallons of crude oil.
Intentionally or not, the movie underscores how much Palin's program as an Alaska politician runs counter to the Washington GOP orthodoxy. It follows her through the nitty-gritty of her work as mayor of Wasilla, promoting water and sewer development to attract businesses such as Home Depot and Lowe's -- which sounds suspiciously like a pint-size version of the stimulus President Obama applied to the economy. And it follows her through her budget battles as governor, when, like Obama, she upped funding for education while cutting other programs -- and when she fought a bitter and ultimately successful fight to raise taxes on oil companies.
In fact, that tax hike is under attack by Palin's fellow Alaska Republicans, including Gov. Sean Parnell, to whom she bequeathed the state's top office when she abruptly left it in the middle of 2009. Another signal accomplishment of Palin's self-shortened term that is touted in the movie, the approval of a competitively-bid Alaska gas pipeline, is now jeopardized by market forces that have undercut its economic viability.
The movie, which notes that Palin as governor "was CEO of 25,000 employees" (take that, Mitt Romney), also presents an elaborate justification for one of Palin's most controversial moves -- her decision to quit her job in July 2009. Aides said Palin made the "sad" decision after discovering that her ability to forge bipartisan compromises in the legislature had evaporated upon her return from her unsuccessful 2008 campaign as the running mate of Sen. John McCain, R-Ariz., the GOP presidential nominee.
Comparing the dismissive attitudes about a Palin presidential bid to those leveled at the late President Reagan -- who was derided as a B-movie actor when he first began his quest for national office -- the movie makes a strong case for a Palin run. The closing words are the suggestive lines Palin uttered at an April tea party rally in Wisconsin: "It starts here. It starts now," she tells the cheering crowd. "Mr. President, game on."
Coral Davenport contributed
Image credit: Mario Anzuoni/Reuters