Mitt Romney Marches Onward
On the campaign trial after last night's debate, the GOP frontrunner's message is clear -- it's the economy, stupid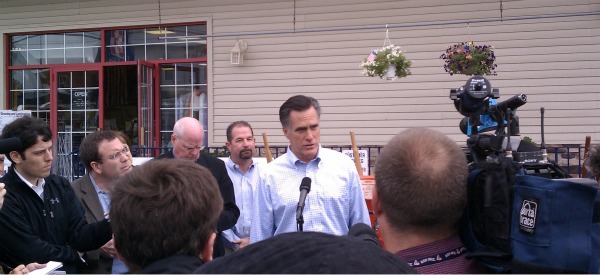 DERRY, N.H. -- This morning, newly minted presidential candidate Michele Bachmann took the first flight out of New Hampshire, but Mitt Romney stuck around. Both candidates helped themselves at last night's debate -- Bachmann especially, since so little was expected of her. After her performance, she's sure to get a turn in the spotlight. But debates alone don't win the nomination. Especially in the early states, voters expect plenty of one-on-one attention. So by hitting the campaign trail early this morning, Romney probably did more to help himself.
He hit a couple of breakfast spots before winding up at the Derry Feed and Supply store just before lunch for some empathetic talk with the locals and a short press conference. Several of the locals who showed up mentioned that they had seen him campaign four years ago, and Romney managed to put this experience to use. "I was in these very shops four or five years ago, when I ran for office," he said. "Things aren't better now than they were four or five years ago. This has been a tough time for Derry. You see some shops that have been boarded up, and people who are running shops have indicated that business is trailing off. They expected things to get better in 2011. It hasn't happened. You can't blame George W. Bush anymore. President Obama is going to have to take responsibility for the fact that we're still in a very troubled economy."
Romney also hit on the rising unemployment number, and turned the discussion to jobs. "The president needs to recognize that there's a crisis in this country and devote every ounce of his energy to getting Americans back to work," he said. "It's a loud and clear message that our president is just not connected with what's happening in America, and his policies have failed us."
That's as clear and compelling a message as any Republican can deliver in the current environment, and Romney has returned to it again and again when he's able to. Although widely regarded as last night's winner, he mentioned offhandedly in Derry that the debate format hadn't really afforded him the chance to talk about his economic plans. Hearing him do so here left the impression that he is by far the most prepared candidate to challenge Obama.
Romney's experience also showed in how he handled himself with the press. This morning's sport among the reporters was to get Romney to respond to Tim Pawlenty's shrinking-violet performance last night, in which he repeatedly refused to expand on his attack of Romney's health-care plan as "Obamneycare." But Romney wouldn't be drawn in. "I think it was a very good debate for everyone there," he said. "We were respectful to one and other and we aimed our rhetoric toward the president, where it was deserved."
Then he demonstrated how a candidate can aim his rhetoric toward an opponent in a way that undermines that opponent's message, but without generating the sort of negative attention that the press always clamors for. One of Pawlenty's better moments last night came when he expounded on the issue of "fair trade." Romney said that as president he would "craft solutions that actually make a difference. So for instance, we can all talk about trade that's fair and that also opens markets with fair terms. But actually knowing how to craft those agreements, and knowing which elements will improve jobs and which elements hurt jobs, that's something that only comes with experience."
For all the media hoopla and trending Twitter hashtags, it's performances like the one he turned in today in Derry that will probably determine Romney's fate. Right now, he's the clear front-runner in the polls, but also a very weak one: most supporters indicate that they're willing to switch to someone else. It's still early and anything can happen. But after hearing Romney talk about the economy, and easily deflect questions that would have tripped him up for years ago, it's not hard to imagine that current supporters might ultimately decide to stick with him.