Michele Bachmann's Campaign Launch in Iowa: Can She Win There?
She's immensely popular among Republicans in the Hawkeye State. A strong showing there could make her a real threat in 2012.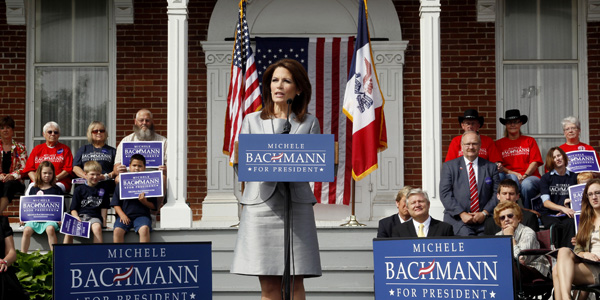 Michele Bachmann has officially arrived in Iowa.
After first announcing her candidacy for president during CNN's June 13 debate, today she launched her campaign in the Hawkeye State -- the state that, by basic political reckoning, will make or break her path to the nomination.
Bachmann appeared in Waterloo, where she was born 1956, and announced in a speech carried live by cable news, "I'm a descendant of generations of Iowans, and I know what it means to be from Iowa. I know what we value here, and I know what's important."
The Minnesota congresswoman wants her candidacy to "stand for a moment when the people stand once again for an independence from a government that has gotten too big and spends too much and has taken away too much of our liberties," she told the crowd today.
Even with the GOP primary schedule still in flux, it's clear that out of all the crucial early states, Iowa offers Bachmann her best chance to make a mark. Former Massachusetts governor Mitt Romney will likely saturate New Hampshire with resources, and Bachmann's Midwest roots give her an advantage in Iowa that she won't enjoy in South Carolina or Florida. To generate momentum and campaign donations, candidates generally need a strong showing in at least one of those states; consequently, Iowa is expected to figure prominently in Bachmann's strategy.
Iowa Republicans love Bachmann, we learned this weekend. She's currently polling in second place there, just one percentage point behind Romney, according to the first Des Moines Register 2012 presidential poll, which was released Saturday night. More impressively, the congresswoman beats every other GOP candidate (and some non-candidaets, including Sarah Palin) in favorability by at least seven percentage points. By that measure, we could say she's the most popular GOP presidential candidate in Iowa:
                     Favorable     Unfavorable
Michele Bachmann       65              12
Tim Pawlenty           58              13
Sarah Palin            58              37
Ron Paul               53              32
Mitt Romney            52              38
Herman Cain            47              17
Newt Gingrich          46              43
Chris Christie         45              14
Rudy Giuliani          45              44
Rick Perry             43               8
Paul Ryan              38              13             
Rick Santorum          38              17
Jon Huntsman           22              19
Bachmann entered the presidential field as a longshot candidate, over a low murmur of scoffs that she could run a serious campaign and make a significant dent in this race. But after a strong performance in CNN's debate, the first of such televised events to feature nearly the entire field, her prospects appeared more legitimate -- she left an impression that she's a substantial candidate, not just a tea-party sensation. After her performance in the Des Moines Register poll, it appears increasingly likely that Bachmann could leave Iowa as a real threat for the nomination.
Working to her advantage in Iowa is this possibly overlooked facet of her political identity: She can pull support both from evangelical Christians and from tea-party Republicans and independents, two important groups that overlap. GOP political infrastructure is heavy on evangelical influence in Iowa, where conservative Christian groups hold public events and can broker support. Bachmann is an evangelical Christian herself and has taken conservative stances on social issues.
She's also a tea-party favorite, and the tea-party vote could be a factor in Iowa. Sarah Palin was once enormously popular in the state (68 percent favorable among Iowa Republicans in November 2009), and the caucus process could prove a friendly venue for fired-up activists. In her Fox News Sunday interview with Chris Wallace yesterday, Bachmann walked the line between small-government tea-party ideology and social conservatism when asked about New York's gay-marriage vote the day before. "I believe that marriage is between a man and a woman. And I also believe -- in Minnesota, for instance, this year, the legislature put on the ballot for people to vote in 2012, whether the people want to vote on the definition of marriage as one man, one woman. In New York state, they have a passed the law at the state legislative level. And under the 10th Amendment, the states have the right to set the laws that they want to set."
In 2008, Iowa Republicans surprised the rest of the country by voting for Mike Huckabee as the GOP presidential nominee. After that race, a network of Huckabee supporters remained (supporters that did not like Mitt Romney), and, with Huckabee not running in 2012, Bachmann stands as good a chance as anyone to inherit those backers.
Bachmann could find herself competing for votes in Iowa with another Republican from her state, former Minnesota governor Tim Pawlenty. He has yet to make a dent in national polls, and the Des Moines Register survey placed him in sixth at six percent, behind Romney, Bachmann, former Godfather's Pizza CEO Herman Cain, former House speaker Newt Gingrich, and Rep. Ron Paul (R-Texas). But Pawlenty has built a substantial campaign, raised respectable money over the past year and a half, and is seen as a potential heavy-hitter by the media and political strategists. Also hailing from a neighboring state, he'll probably need a strong showing in Iowa to keep raising money and sustain his own momentum in 2012.
Working against Bachmann in 2012, generally, are some still-memorable incendiary statements she's made in the past -- in particular: "I'm very concerned that he may have anti-American views," Bachmann said of then-candidate Barack Obama in 2008, suggesting in the same interview that the media should investigate whether members of Congress have views that are pro- or anti-American. That quote meant some added fundraising for her Democratic-Farmer-Labor opponent, and Bachmann topped her main rival by three percentage points in a district thought to be safely Republican.
We've seen a more measured Bachmann of late, one who appears to be ready for a high-profile presidential run -- and one who very well could be headed for a top-three finish, or even an outright win, in the all-important Hawkeye State.
Image credit: Jeff Haynes/Reuters