Meet the Iowans Who Gently Disapprove of Sarah Palin
Folks in Pella aren't all thrilled that you-know-who is coming to town for her big movie premiere. But they're awfully nice about it.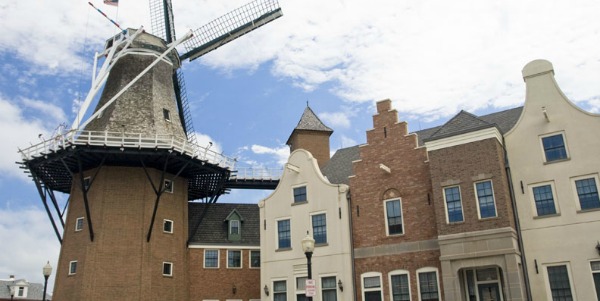 PELLA, Iowa -- When a hurricane threatens the East Coast, people board up their homes, gather their loved ones, and flee to safety. A few hours from now, Hurricane Palin will hit this lovely little town--home of the Tulip Festival and notable for its Dutch architecture--for the Iowa premiere of her biographical movie, "The Undefeated." This may or may not presage a presidential run, and judging by the number of satellite trucks, the media isn't taking any chances. The local hotels are sold out, the town square is closed off, and the locus of all activity is the Pella Opera House, where Palin herself will grace the red carpet at 5 p.m.
Not everybody is thrilled about this. Pella is a deeply conservative town, but I encountered plenty of people (Democrats, independents, Republicans) who were annoyed by the approaching storm and planning to flee--only this being Iowa, they were super polite about it. Cyndi Boertje, 48, a tutor coordinator at the local college is one such person. "I will not be in town while Palin is doing all her stuff," she informed me. She confessed to some curiosity about the crowd--"I was a sociology major"--but in the end decided that she could not abide the star of the show. "Her voice, that dog whistle, it just makes your skin crawl. And the stuff she says--the dots just don't line up." Boertje had already hit upon a Dutch-appropriate means of escape: "I'm going on a bike ride."
Ron Long, the treasurer of the local Democratic Party, considered infiltrating the event, but decided that might be rude. "We were going to go to it and start asking questions," he said. "But this town has a lot of Republicans, and I don't want to ruffle their feathers for nothing." Provocative! Was he suggesting Palin amounts to "nothing"? "I'm not too worried about her. I think she'll destroy herself better than anybody else. To me, it's entertainment."
Ann Visser, 54, an English and journalism teacher at the local high school, also thought about confronting the crowd, but sounded like she probably wouldn't. "Some of us have talked about a peaceful protest," she said. "Somehow, the rest of the world needs to know that we aren't all giddy about this news."Others were mildly more huffy--in a reserved, Midwestern sort of way. "I have not seen anything from her except flash," said Doris Vander Wilt, 67, a retired dress shop owner and registered independent, who lives six blocks from the Opera House. "It's all snap and crack, no depth or knowledge." She was staying put at home, all day long.
Palin evidently has some work to do among Republicans, too, or at least some of them. Jim Vanden Berg, 63, retired from Vermeer Manufacturing, is a registered Republican who isn't much taken with Palin or her movie. "No, I won't be attending," he told me. "It's sold out, and I wasn't going after tickets anyway. I wouldn't vote for her." Does that mean Palin is bleeding support even among Pella's Republicans? "I would say there's people who think she's the cat's meow, and there's people who agree with me. She doesn't trip my trigger."
Still, Iowans are different. Despite their gentle disapproval, I sensed that if Palin were to knock on just about any door in Pella, she'd probably be invited in for lemonade. I'm heading over to the Opera House to mingle with Palin supporters. I'll file a report later on. In the meantime, I'll give Boertje the last word on the Palin movie premiere, since her take is so quintessentially Iowan: "We're just going to wait for this to blow over. I guess it'll affect us because we have to drive in that mess. But we already have construction going on, so it's just one more obstacle to weave around."