Is There Really Gold in Ft. Knox?
Ron Paul has doubts about whether the U.S. reserve exists, and he's aiming to find out the truth.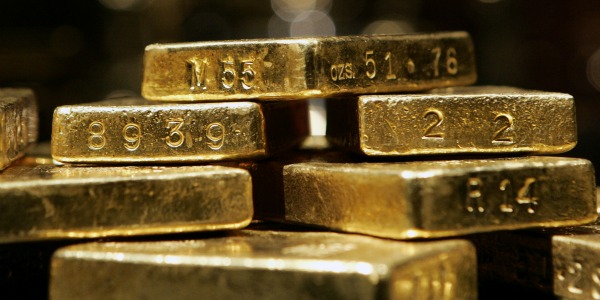 I'm quite fond of Ron Paul. I enjoyed spending time with him for
this Atlantic profile
. I liked learning about Austrian economics. I like the fact that he thinks differently than other Republicans and has the courage of his convictions. Washington is a more interesting place because of him. And he makes good copy. That's especially true now that he has become,
at long last
, chairman of the subcommittee that oversees the Federal Reserve.
But I have to admit that even I did not foresee, and in fact never could have imagined, Paul's latest crusade: He's skeptical that the United States really has the gold it claims to have in Ft. Knox. And he wants some answers!
As most people know, Paul is a huge gold bug. (That's a big tenet of his Austrian economics.) At various points in his career he has pushed to return the U.S. to the gold standard, and it's largely thanks to Paul's efforts that the U.S. Treasury resumed minting gold and silver coins. That's partly because Paul is suspicious of the dollar, which, he will tell you, is paper money that is being systematically debased by the Federal Reserve. But Paul's fears seem to extend further than I think most people realize. According to this fascinating
Businessweek article
he's now expressed those fears in the form of legislation that would require an independent accounting of the more than 5,000 tons of gold bullion that the U.S. government says it possesses in Ft. Knox and various other locations:
Paul, who has said he thinks it's possible there is no gold at Fort Knox, told Bloomberg Businessweek the government is asking the American people to trust that all the gold is there, while not allowing site visits and not publishing all the data.
To allay Paul's suspicions, the Treasury's inspector general recently visited the Bullion Depository at Ft. Knox to ensure that the gold is actually there (it is). But Paul wasn't satisfied. He introduced a bill in April that would require tests of the 700,000 gold bars that make up the U.S. gold reserve. That process wouldn't be cheap:
According to Treasury estimates, testing all that gold would take 400 people working full time for six months to complete and cost at least $15 million. Paul now says he would be satisfied with a representative sampling of the bullion.
Now, like most legislation that Paul champions, this probably isn't going anywhere. But you still have to marvel at it. And who knows? Democrats are desperate enough for another stimulus that those 400 jobs might look pretty attractive. Maybe they could swallow hard and pitch it as a "jobs program"...
Image credit: Reuters