Is Romney Ready for the Tough Race Ahead?
As the frontrunner, he's been able to stay above the fray. That will soon change, and the former governor will have to mix it up and weather attacks from competitors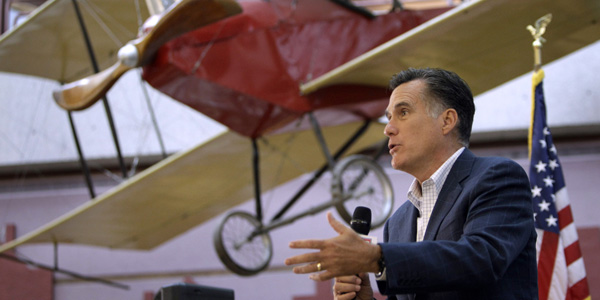 If the Republican presidential nomination is Mitt Romney's to lose, as the current conventional wisdom says, will today be the day he starts?
---
MORE FROM NATIONAL JOURNAL:
CMS Denies Indiana Abortion Law
Romney's the One to Beat, Dem Insiders Say
U.S. Growth: Slow and Volatile
---
The former Massachusetts governor, veteran capitalist, and Salt Lake City Olympics repairman has long sat atop the GOP field, battle-tested and polished, the kind of paradigmatic, done-his-time candidate to whom GOP primary voters have traditionally given the nod. His front-runner status, cemented in part by his acknowledged fundraising chops--which he's about to enhance with a busy schedule of stops designed to raise still more campaign cash--has been carefully honed by the strategic decision to dodge the daily fracas of the campaign's early stages.
Today, all that changes.
In rural Stratham, N.H., Romney will make his long-assumed presidential ambitions official and shed his above-the-battle status--a luxury afforded him by the name recognition and political apparatus he retained and refined after his unsuccessful 2008 bid for the GOP presidential nomination.
Romney's presumed front-runner status kept him from straying into the quicksands that have slowed some of his rivals in recent months. Romney didn't need to yell and scream on Libya because he was already in the conversation. Donald Trump? Not Mitt Romney's business. Last month's debate in South Carolina featuring mostly minor candidates offered no enticement.
"If you had told me six months ago that he would be the sole, conventional-wisdom frontrunner at this point, I would've been sort of surprised," said one Romney adviser, speaking on condition of anonymity to offer candid analysis. "I think the biggest thing he's done right is hold off on engaging in the fisticuffs."
Now, with his campaign announcement sited on the farm of Doug Scamman, a former speaker of the New Hampshire House, in the state Romney vitally needs to win, some of that political aloofness will fall away as Romney plunges into the messy GOP fray.
Michigan, where Romney's father, George, was governor from 1963 to 1969, was the venue for his February 2007 launch at Dearborn's Henry Ford Museum. Today's rollout, on a Granite State farm, will be a decidedly more stripped-down and less expensive affair. Romney attended last year's annual chili cookout, said senior adviser Eric Fehrnstrom, describing the Scammans as "salt-of-the-Earth Republicans."
"It's bucolic, it's typical New Hampshire," Fehrnstrom said.
Romney advisers acknowledge that he has three primary areas that could open him to weakness: his signature on a 2006 Massachusetts health care reform law with an insurance-coverage mandate, his reputation for altering stances on issues from gay rights to his hunting credentials, and his Mormonism, a faith that bothers particularly conservative evangelical voters.
His work to minimize all three has met with some success. Last month's University of Michigan speech failed to pacify hardcore Romney critics because he did not grovel and denounce the 2006 law, but spared him from the flip-flop police constantly tailing his campaign.
Romney's argument will pivot on his economic capabilities, the work he did as CEO of Bain & Company, then his leadership of the Bain Capital private-equity investment group. He'll talk about patching holes in the Massachusetts budget, and the time he's spent since the 2008 election backing fiscally conservative candidates across the country through his Free and Strong America PAC.
It's a pitch that Romney's camp says is uniquely suited to the times.
"The 2012 presidential election is going to be a referendum on Barack Obama and his handling of the economy," Fehrnstrom said. "There is growing recognition that Mitt Romney is the strongest candidate from either party when it comes to job creation and stimulating the economy. That's because of the successful career he had as a private businessman."
Noting that primary voters in 2008 were focused on the war in Iraq, Fehrnstrom called it "not surprising" that McCain, seen as the premier national-security candidate, won out."
"This time around, the number-one issue is jobs and the economy and we think the nominee will be the person who's viewed as strongest on job creation," he said.
That message and his ability thus far to ooze perceived preeminence above a lowly regarded GOP field have carried Romney to Stratham with a credible argument that he can rescue Republicans from themselves and square off with a Democratic president hamstrung by an economy still wheezing in its recovery. Now, though, he will once again be subjected to the campaign grind, and be fair game for the kind of shots his rivals have already taken pleasure in lobbing his way.
Both Tim Pawlenty and Jon Huntsman picked the eve of Romney's launch to make New Hampshire news, Pawlenty announcing his staff for the state and Huntsman unveiling his weekend tour stops. And the New Hampshire Union Leader is reporting that Sarah Palin will make an appearance in the Granite State Wednesday evening and is inviting Republicans to join her at a seacoast clambake hours after the Romney announcement.
While Romney has been successful in "assuming the demeanor of a front-runner," one adviser cautioned that the new phase of his campaign will likely present Romney with a front-runner's problems, adding: "I think it'll be interesting to see what happens when he's up on a stage with 17 people who want to take a piece out of him."
Image credit: Charlie Neibergall/AP
Drop-down image credit: AP