Herman Cain's Anti-Muslim Bigotry Should Be Disqualifying
The loyalty test he proposes for Muslim Americans isn't just discriminatory and unconstitutional -- it would never work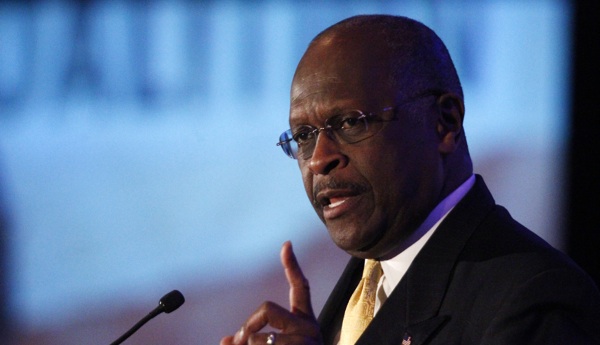 Presidential candidate Herman Cain has reiterated his position that any Muslim serving in his administration would be forced to take a loyalty test with this statement: "That's not discrimination. It's called trying to protect the American people. This nation is under attack constantly by people who want to kill all of us, so I'm going to take extra precaution."
That's chilling logic. The last time the United States government decided that an "extra precaution" made it okay to presume the disloyalty of citizens, we imprisoned more than 100,000 completely innocent Japanese Americans.
Even if it weren't bigoted and imprudent, however, Cain's logic should be disqualifying for its sheer idiocy. Think about it. His plan for deciding whether someone is a sleeper jihadist or worthy of being trusted in the White House is essentially to ask them, "Do you swear you're loyal to the United States?" This would happen in a "one-on-one conversation," where the former CEO would do what exactly? Apparently being in a room alone with a man is enough for Cain to tell his intentions, because no one has ever lied in the history of mankind, or been misjudged when telling the truth.
The guy is running as the "common sense" candidate and offering up terrorism solutions so blinkered they fail on three levels. We've covered the bigotry problem. Then there's the fact that an actual terrorist would lie during any conversational loyalty test. But even in an alternate universe where conversations about loyalty were magic guarantors of actual loyalty, real jihadists could just lie about being Muslim and avoid taking any test at all: under his plan it wouldn't be required of non-Muslims.
Perhaps Cain grasps the glaring flaws in his plan, and is merely pretending loyalty tests are something he'd implement. In that case, he's shown himself willing to exploit anxiety about an ethnic minority for the sake of populist appeal. The next president may well preside over a terrorist attack by Islamist extremists, so the last thing we need is an Oval Office occupant prepared to target innocent Muslims with discriminatory policies should doing so happen to poll well.
Cain should disavow this position or drop out of the race.
Image credit: Reuters