Have Dems Found Their Man to Defeat Paul Ryan?
In a Wisconsin district that voted for Obama, former small businessman Rob Zerban steps up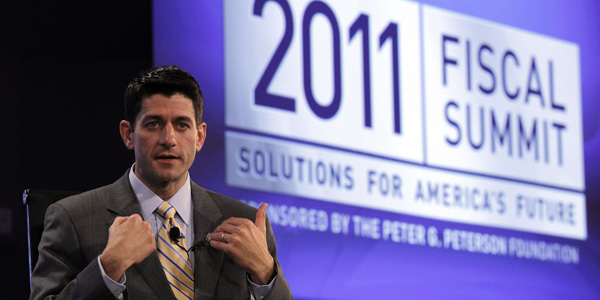 Democrats see the proposal by House Budget Chairman Paul Ryan (R-Wis.) to revamp Medicare as their ticket to taking back the House. And one of the 24 seats they believe is well within play is Ryan's own.
A seven-term congressman, Ryan hasn't won with less than 63 percent of the vote since his first election in 1998. Democrats heavily contested the open seat then, but despite the swing nature of the Kenosha-based seat -- it voted 51 percent for President Obama in 2008, with 47 percent voting for Sen. John McCain (R-Ariz.) -- Ryan hasn't had a serious challenger since.
Enter Rob Zerban. A former small business owner, he first considered running for the 1st District seat in 2010, and even had a very early conversation with the Democratic Congressional Campaign Committee.
---
MORE FROM NATIONAL JOURNAL:
Graham, McCain, Gates Rebuke GOP 'Isolationists'
Golf Gives Insights Into Presidential Character
Perry Aides Priming the Pump in Iowa
---
But Zerban, who had just sold his catering company and was becoming more active in local politics through his position on the Kenosha County Board, decided the timing wasn't right -- proof of his good political instincts.
The Badger State ended up seeing massive turnover as a result of the GOP wave. Democrats lost control of the governor's mansion, a Senate seat, and two House seats.
Just a few months later, the tide had turned dramatically in Wisconsin. Protests rocked the state after Republican Gov. Scott Walker and the GOP-controlled Legislature voted to make up a budget shortfall by making unionized public employees pay more for their benefits -- and to strip them of collective bargaining rights.
Zerban and his wife Cornelia, a public school teacher, were among the tens of thousands protesting in Madison. This time, when state party chairman Mike Tate called to ask him to run, his answer was different.
Zerban says he'd made up his mind to challenge Ryan before the Republican's budget was passed by the House. But he filed candidacy papers with the Federal Election Commission just days afterwards. One of his first actions: The launch of the website, HandsOffMyGrandma.com, encouraging people to sign a petition opposing Ryan's plan. "People were instantly opposed to [Ryan's] plan," said Zerban. "We had a huge response, and it was big success for campaign."
His once-underdog challenge has gained new steam thanks to the one-two punch of both growing unrest in his home state and the debate over the Ryan's plan to transition Medicare into a voucher system for those under 55, Zerban said.
"There appears to be a perfect storm brewing in the 1st District," he told National Journal's Hotline in an interview. He described himself as a "candidate with a business background who has experience budgeting, balancing benefits and the bottom line, providing excellent benefits for his employees."
Zerban's race shot to national prominence thanks to a political earthquake 600 miles away. When Democrat Kathy Hochul upset Republican Jane Corwin in the May 24 special election in New York's 26th District, Zerban's name was the first off the lips of DCCC Chairman Steve Israel of New York when he rattled off a list of Democratic challengers with chances at upsets.
The significance of Hochul's upset win as a barometer of how the Medicare vote was playing in red territory hasn't been lost on Zerban.
"The special election in New York-26 was a huge boost," he said. "It showed that a Democrat can win in a really conservative district, and my district is not anywhere near as conservative as that district."
Ryan's backers dismiss the Democrats' chances of unseating him. While less-seasoned members have had difficulty explaining Ryan's plan in the face of backlash at recess town halls, as the plan's author, Ryan is by far the best to discuss it in depth and explain its nuances.
Moreover, a Ryan aide added that the congressman's proposal represents nothing new to his constituents, who have been hearing from him for years about his "Roadmap for America's Future" and his "Path to Prosperity."
Just in case anyone has missed his budget-cutting zeal, Ryan held 19 town halls just after the plan came out, and contrary to some reports, he had a positive reception at the events.
"Despite the Democrats' best attempts, Paul Ryan's willingness to take on Washington's spending addiction has never been a political liability for him in a competitive district," said National Republican Congressional Committee spokesman Andrea Bozek.
The congressman himself has maintained he's committed to his budget plan, even if it does cost him his seat.
"I don't care about that," Ryan said in an interview last month with ABC News. "Now is not [the] time to be worried about political careers. Sincerely, I will be fine if I lose my House seat because you know what? I will know I did what I thought was right to save this country from fiscal ruin."
While redistricting could give Ryan a few more GOP areas, his district is expected to still maintain its swing nature. Republicans point out that he's consistently over-performed Republican presidential nominees there.
While Medicare backlash is certainly the driving topic for now, Republican strategists believe growing concerns about the sluggish economic recovery could supplant it in voters' minds--helping their candidates. Until then, expect to keep hearing a lot about Zerban and the Democrats' No. 1 target in the House.