Capitol Hill is a little whiter, with more men and fewer women, lawyers, and veterans since Republicans took over the House in January. That is the portrait painted by an exhaustive examination of 319 congressional staffers who hold the key posts in the legislative leadership offices and the committees. The numbers come from a demographic survey compiled by National Journal and National Journal Daily for NJ's quadrennial "Hill People" project.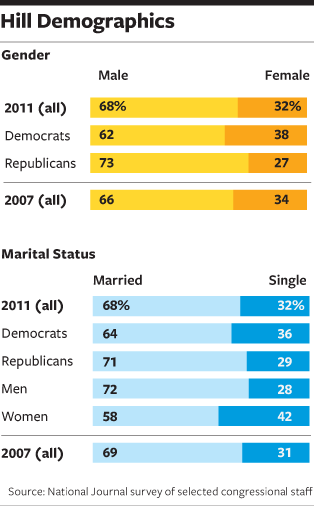 This year's Hill People — the seventh edition since it was first undertaken in 1987 — is contained in a special issue of National Journal to be published Monday. As it did in 2003 and 2007, the 2011 edition is accompanied by a demographic survey of all the staffers who participated.
This is the only study that takes an in-depth look at the staffers, and provides unique insight into those who wield enormous influence in the shaping of the nation's laws but who most often prefer to stay behind the scenes and anonymous.
The aides interviewed included majority and minority staff directors and a selected number of chief counsels, deputy staff directors, and communications directors. Only a handful of staffers balked at providing some personal information. Almost all granted personal interviews and shared information about everything from their marital status to where they live, to their hobbies.