Capitol Hill is a little whiter, with more men and fewer women, lawyers, and veterans since Republicans took over the House in January. That is the portrait painted by an exhaustive examination of 319 congressional staffers who hold the key posts in the legislative leadership offices and the committees. The numbers come from a demographic survey compiled by National Journal and National Journal Daily for NJ's quadrennial "Hill People" project.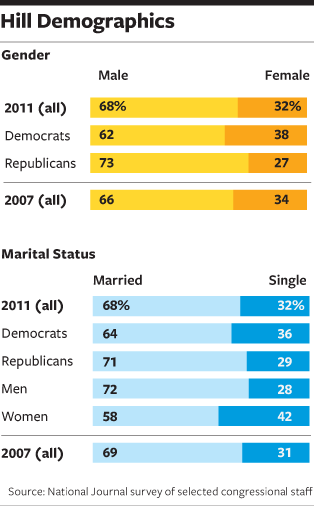 This year's Hill People — the seventh edition since it was first undertaken in 1987 — is contained in a special issue of National Journal to be published Monday. As it did in 2003 and 2007, the 2011 edition is accompanied by a demographic survey of all the staffers who participated.
This is the only study that takes an in-depth look at the staffers, and provides unique insight into those who wield enormous influence in the shaping of the nation's laws but who most often prefer to stay behind the scenes and anonymous.
The aides interviewed included majority and minority staff directors and a selected number of chief counsels, deputy staff directors, and communications directors. Only a handful of staffers balked at providing some personal information. Almost all granted personal interviews and shared information about everything from their marital status to where they live, to their hobbies.
(RELATED: Breaking Down the Ages of Top Hill Aides)
In many ways, today's Capitol Hill is fundamentally unchanged since NJ's first comprehensive demographic survey of staffers in 2003. There are only slightly more women and African-Americans today than there were eight years ago, before the Senate went from Republican to Democrat and the House went from Republican to Democrat and back to Republican.
In 2003, 72 percent of these top staffers were male. That fell to 66 percent in 2007 but jumped back up this year to 68 percent, with only 32 percent of the senior committee slots filled by women. The disparity between the two parties is noticeable — Democratic staffers are 62 percent male while Republican staffers are 73 percent male.
The racial breakdown still shows an overwhelmingly white staff with some slippage in the last four years in reaching more diversity. In 2003, the top staffers were 94 percent white. That fell to 91 percent in 2003 but jumped back up to 93 percent this year. Correspondingly, the percentage of African-American staffers went from 2 percent in 2003, up to 5 percent in 2007 and then down to 3 percent today, after the change in party control.
(RELATED: Who Are Hill People? Where Do They Come From?)
Surprisingly, at the same time the country is becoming more Latino, the number of top Hispanic staffers at the key committees has dropped. In both 2003 and 2007, 2 percent of the staffers were Latino. Today, that has fallen to 1 percent. In raw numbers, that translates to only three Latino staffers surveyed — two working for Republicans and only one for Democrats.
The number of Asian staffers stayed steady over the three surveys at 3 percent.
Showing that Hill staffers reflect the larger culture, a longtime trend continued with fewer military veterans working for the committees that write the laws. Today, only 5 percent of the top staffers are veterans. Four years ago, 5 percent of Democratic staffers and 15 percent of Republican staffers were veterans. Democratic veterans dropped only 1 point, to 4 percent. But Republican veterans were cut in half, dropping from 15 percent to 7 percent.
Dropping less sharply was the number of lawyers. Eight years ago, 43 percent of the staffers were lawyers; four years ago, that was down to 36 percent; today, it is down again to 35 percent.
Also dropping was the number of staffers educated in the Ivy League, with a noticeable jump in the number of staffers who got their undergraduate degrees from public schools — up to 49 percent from the 41 percent in both 2007 and 2003. Ivy League graduates — 12 percent in 2003 and 14 percent in 2007 — made up only 10 percent of the top staffers.
The other 41 percent of staffers graduated from other private colleges.
The most popular school for staffers was Georgetown University, with 10 undergraduates and 15 graduates of Georgetown Law. The next most-cited undergraduate school was Yale, with seven graduates. Among law schools, those trailing Georgetown were George Washington University and the University of Virginia, with six each.
Overall, the number of staffers with graduate degrees — including law degrees — dropped in the last four years to 59 percent from 64 percent.
Another figure dropping was the number of staffers with prior experience lobbying. Only 13 percent of Republicans and 11 percent of Democrats had been lobbyists, down several points from 2007.
Some things, of course, stay the same regardless of which party controls the committees. About a third of the staffers are single, with more Democratic staffers single than Republican staffers.
The other thing that doesn't seem to waver is where staffers choose to live once they go to work on Capitol Hill. Democrats tend to live in the District, while Republicans prefer Virginia. Maryland gets little love from either party.
For Democrats, 50 percent live in D.C., 32 percent in Virginia and 18 percent in Maryland. For Republicans, 62 percent are in Virginia, 30 percent in D.C. and only 8 percent in Maryland.
We want to hear what you think about this article. Submit a letter to the editor or write to letters@theatlantic.com.