Don't Go Away Mad, Rod Blagojevich, Just Go Away
The former Illinois governor was doomed by his own big mouth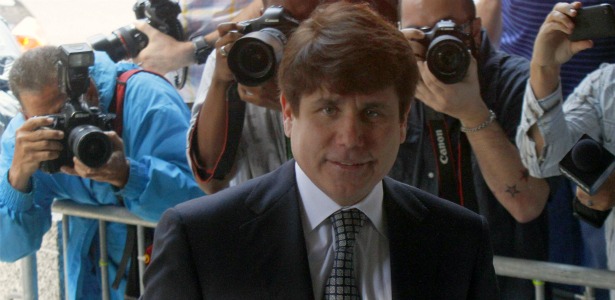 The more Rod Blagojevich spoke, the less he was believed. When the former Illinois governor exercised his Fifth Amendment right to remain silent during his first federal corruption trial, the jury came back mostly deadlocked. This time around, after Blagojevich spent day after day on the witness stand in his own defense, trying vainly to explain away all those catchy phrases caught on all those wiretaps, the jury socked him with convictions on 17 of the 20 counts against him. So long, pal, nice to know you.
Federal prosecutors, including golden boy Patrick Fitzgerald, won the day because they learned their lessons from the first go-around in United States v. Blagojevich. They simplified the case against the disgraced politician. They kept the trial shorter and brought in less evidence. They constructed a more direct and focused narrative of Blagojevich's exploits--the phone calls, the threats, the heavy-handedness--that was easier for jurors to follow. This is what good attorneys do when they are given a second chance to make a first impression. They keep the faith, rejigger the strategy, and press on. And, of course, it helps when you have hours upon hours of audiotapes in which the defendant is blatantly incriminating himself.
Blagojevich and company, on the other hand, lost the day because they failed to learn some of the key lessons from the first trial. By most accounts, his testimony was a disaster for the defense. So why on Earth did he take the stand? Did he honestly believe, like so many other addled politicians before him, that he could simply talk his way out of trouble? Did he think that jurors would give him the benefit of a reasonable doubt solely because of some ethereal nostalgia for old-school politics? James Michael Curley may have been beloved from a prison cell, but that was 107 years ago, and anyway, Blagojevich is no James Michael Curley.
We'll now hear all the old familiar tunes from defense lawyers as they prepare the appellate courts, and the courts of public opinion, for the next phase of the case. But I'm not sure many people will be listening anymore--to Blagojevich or to any of his tribunes. I haven't done an empirical study, but I'm quite sure that coverage of the second federal trial was far less extensive than was coverage of the first. And now that the defendant has been found guilty by a jury of his fellow Illinoisans, now that his presumption of innocence is gone, we'll hear even less from him.
Indeed, Monday's verdicts almost certainly mean the end of Blagojevich's political and public life. He's facing a decade or two of federal prison time, at a minimum, given the roll call of convictions read aloud in the federal courtroom in Chicago. And the defendant's chances of success on appeal today seem remote. What an epic tale of modern hubris! A politician who got in trouble in the first place because he couldn't keep his mouth shut in office got convicted in the end because he didn't keep his mouth shut under oath in court. I guess you can say one good thing for the convicted felon as he now exits the stage: at least he went down fighting, with the best weapon he's probably ever had. His gift of gab.
Image Credit: Frank Polich/Reuters