Does Weiner's Exit Mean Stronger Ethics Standards in House?
He's the fourth married congressman in 15 months to resign suddenly over a sexual indiscretion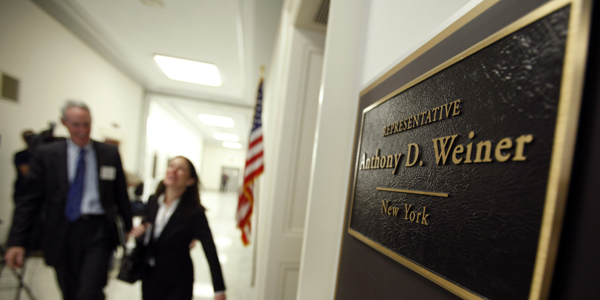 In the complex world of congressional ethics, there is no black-and-white guide for how leaders use their political muscle to nudge an ethically impaired member toward the exit, but Rep. Anthony Weiner's Thursday resignation reaffirmed an implicit new rule in the House: sexual indiscretions will not be tolerated.
"Isn't it interesting that there's something always more mysterious about the flesh than there is about cash?" said Rep. Bill Pascrell, D-N.J. "That's the way we are. It doesn't mean it's correct, but that's the way we are." Pascrell voiced sympathy for Weiner, but agreed that the New York Democrat made the right decision to quit. "I feel for the guy, but he did a stupid thing. Somehow or another, you gotta pay--one way or another," he said.
---
MORE FROM NATIONAL JOURNAL:
Weiner to Resign
Weiner OK Financially but Needs Work
PICTURES: Lawmakers Attend White House Picnic
---
Weiner is the fourth married, male lawmaker in 15 months to resign suddenly over sexual indiscretion. In March 2010, Rep. Eric Massa, D-N.Y., resigned within days of allegations of sexual harassment toward male aides. In May 2010, Rep. Mark Souder, R-Ind., resigned after he admitted an affair with a female aide. In February of this year, Rep. Chris Lee, R-N.Y., resigned the same day he was caught soliciting sex on Craigslist.
None of the four lawmakers were investigated for breaking the law, and they all quit before the ethics committee could render a verdict on their conduct--although it does not take an investigative subcommittee to conclude their actions did not reflect honorably on the House.
They were largely matters of personal, private failing, but when the scandals broke, the countdown clocks for resignation started ticking. Weiner took nearly three weeks to resign from the day the scandal broke over his lewd online communications with at least six women. Initially, he sought to stay in office but intense internal pressure from Democratic leaders and extensive media scrutiny made it clear to everyone but Weiner that his days were numbered.
"I think, in part, it is a reflection of the standard [House Speaker] John Boehner has set," said Melanie Sloan, executive director of the ethics watchdog Citizens for Responsibility and Ethics in Washington. "He has made it clear that he is not going to lose his majority over some idiot's" personal failing, she said.
Pelosi, in turn, met that standard when she called for Weiner's resignation and worked to keep the pressure on him to leave the House. Democrats were even mulling stripping Weiner of his committee assignments--an extraordinary disciplinary step for a lawmaker not under any formal investigation or accused of breaking any law. Republicans believe Pelosi is reacting to a standard Boehner has set--that she can't be outdone on ethics when she built her winning 2006 majority largely on an argument that the GOP was ethically bankrupt. Whether by force or by choice, Pelosi now appears to be of the same mindset as her Republican counterpart that when it comes to sex scandals and the rank-and-file, there is zero tolerance.
That mindset, however, does not translate as easily to non-sexual ethical allegations. Pelosi never called for Rep. Charles Rangel, D-N.Y., to resign over ethics violations for financial matters. Rangel was the first lawmaker in nearly 30 years to be censured, the most severe form of punishment shy of expulsion from the chamber. Boehner has similarly taken a softer approach to Rep. David Rivera, R-Fla., who is under criminal investigation in Florida for potential financial abuses. The speaker has previously said that the he would wait to see how the investigation pans out.
In some ways, the distinction is obvious. While there are legal ambiguities in non-sexual ethical investigations, there was no public or private doubts that Souder, Massa, Lee, and Weiner did what they were accused of doing. "There is a standard now that it will just not be tolerated," said Ted Van Der Meid, an attorney, former chief counsel for House ethics, and a former House Republican leadership aide to Speaker Dennis Hastert. Van Der Meid said the cultural shift is due in part because the public already holds Congress in low regard. "The public just can't stand it, and when they see members of Congress act like that it just infuriates them."
Politically, Boehner and Pelosi have reason to eliminate such distractions. The days of seemingly endless majorities, such as the four-decade stretch Democrats once enjoyed, are over. Control of the U.S. House is increasingly fluid and American voters are increasingly likely to vote them out, so Boehner is not going to let the Souders and Lees in Congress threaten his majority any more than Pelosi is going to allow the Weiners to threaten her chances to win it back.
Image credit: REUTERS/Jason Reed