Could Republicans Take Weiner's District?
If his Twitter scandal snowballs, Democrats could face real electoral consequences in New York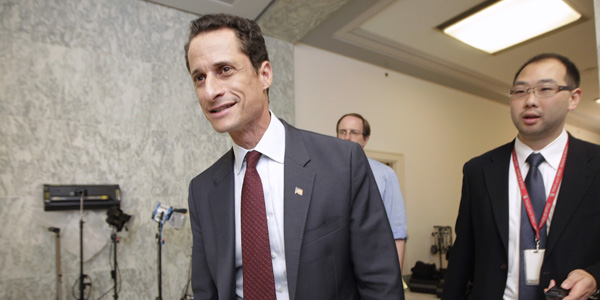 Much of the attention being paid to Rep. Anthony Weiner (D-N.Y.) is focused on the salacious -- whether he sent the lewd picture to a college undergrad or whether he was the victim of a grand hoax. Few are talking about the possibility that Republicans could pick up Weiner's seat.
---
MORE FROM NATIONAL JOURNAL:
CMS Denies Indiana Abortion Law
Romney's the One to Beat, Dem Insiders Say
U.S. Growth: Slow and Volatile
---
If the scandal snowballs, however, there could be some serious political implications for Democrats from the incident. While Weiner represents a New York City district that's conventionally thought to be safely Democratic, in reality it has trended sharply in a Republican direction in recent years. If Weiner stepped down from Congress, Republicans would have a realistic shot at putting it in play.
Weiner's district, spanning mostly white neighborhoods in Queens and Brooklyn, trended more Republican than any other district in the country from the 2000 to the 2008 presidential election. Al Gore carried the district in a landslide, winning 67 percent of the vote. But it gave John Kerry just 56 percent of the vote in 2004, a striking 11 point dip.
The gain was largely attributable to voters' strong support of George W. Bush's counterterrorism policies post-9/11, but four years later John McCain carried the same 44 percent of the vote as Bush, even as President Obama significantly outperformed Kerry across the country.
Weiner himself faced his toughest re-election in his career last year, winning 59 percent of the vote against an underfunded Republican opponent. For Weiner, that was a limp performance -- he had always won more than 66 percent of the vote since he first ran for Congress in 1998.
But if Weiner wasn't running again, that would change the dynamic significantly. Weiner is a well-liked figure in the district, and has a record of winning over Democrats, Republicans and independents alike. But if the seat opened up, there aren't many Democratic contenders who would start with the same level of support.
One Republican operative floated the name of New York state Judge Noach Dear as a serious potential candidate. Dear unsuccessfully challenged Weiner in 1998 and 2000 in the Democratic primary, and later ran against him as a Republican.
(VIDEO: 'Swelling Controversy' Surrounding Rep. Anthony Weiner)
The district has a sizable Jewish population, including a fast-growing Orthodox Jewish bloc that tends to vote Republican.
It wasn't long ago that Republicans expected to have no problem holding onto the seat of former Rep. Chris Lee (R-N.Y.) even after his embarrassing sex scandal. Today Democratic Rep. Kathy Hochul was sworn in to replace him.
Interestingly enough, Hochul's seat is more Republican (R+6) than Weiner's is Democratic (D+5), according to the Cook Political Report's Partisan Voting Index. If Weiner does step down as a result of the scandal, it's hardly a foregone conclusion that Democrats will be a lock to hold onto the seat.