Challengers Yet to Emerge in Weiner's District
His constituents have trended Republican more than any in the nation. Can a GOP opponent, or a fellow Democrat, beat him if he doesn't resign?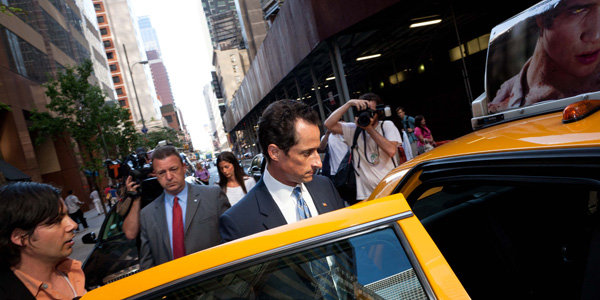 New York and national Democrats aren't readying for possible successors to embattled Rep. Anthony Weiner -- yet.
But that doesn't mean Republicans aren't taking a closer look at the seat regardless of whether Weiner survives his scandal and bumbling press conference Monday -- in which the married seven-term representative admitted he sent suggestive photos to several women via Twitter and Facebook.
(RELATED: The Democrats Calling on Weiner to Resign)
Voters in his district aren't clamoring, either, for him to step down. According to a new one-day NY1-Marist poll released late Tuesday, only about one-third of citywide voters think Weiner should resign from Congress, while about half think he should not.
---
MORE FROM NATIONAL JOURNAL:
Congressional Insiders: Bye-Bye Ryan Plan
Judges Question Mandate During Arguments in Health Care Law Appeal
Giuliani Undecided
---
One important caveat, however: The poll was conducted Monday evening, just hours after Weiner's midtown Manhattan press conference and before many voters may have heard Weiner's admission. The poll was also conducted among voters throughout New York City, as opposed to Weiner's district, which trends slightly more conservative than the city as a whole. And while Democrats aren't willing to talk publicly about potential recruits in their own party, the New York Times is reporting that some local party activists have approached former city Councilman Eric N. Gioia about running for Weiner's seat.
Weiner has won comfortably since his first race in 1998, but his district, comprised of mainly white neighborhoods in Queens and Brooklyn, has trended more Republican than any other district in the country from 2000 to 2008. In 2000, Vice President Al Gore took 67 percent here, but in 2004, Sen. John Kerry (D-Mass.) won just 56 percent -- an 11-point plunge. Obama got 55 percent of the vote in 2008.
Republicans so far who have been mentioned as possible candidates include Weiner's 2010 opponent, Bob Turner, who held Weiner to just 59 percent last cycle. That was his lowest percentage ever in a race where Weiner outspent Turner nearly 4-1. Turner told National Review this week he's thinking about running again.
Other possible Republicans include New York state Judge Noach Dear, who ran against Weiner in the 1998 Democratic primaries. Dear later joined the GOP and again challenged him. New York City Council Member Eric Ulrich could also be a potential contender.
"It's early, so we'd need to see who could really put together the resources," said one GOP strategist.
With New York's maze of multiple ballot lines and a candidate with mounting political and personal baggage, this would be the type of race Republicans say they'd take a close look at -- if Weiner remains on the ballot. But if he resigns, allowing Democrats to nominate a candidate unencumbered by scandal, Republicans say privately that a path to victory does become more difficult.
If Weiner does resign though, there's not expected to be a shortage of either local or state officials who would jump at the chance for an open, Democratic-leaning seat -- especially because they wouldn't have to live within the specific confines of the 9th District.
"I think a lot depends on the outcome of the ethics investigation and how he cooperates on it," New York State Democratic Party Chairman Jay Jacobs told National Journal Daily. "The next piece of it is what the people in his district feel. They're the ones that hired him and they're the ones who should be weighing in."
Jacobs said he hasn't talked with Weiner since his press conference, but it's clear that in the "near term he's going to lay low and then he'll have to be paying a lot of attention to his district."
But what that district looks like could be another concern for Weiner as he looks to resurrect his political career. With New York eliminating two seats in redistricting -- and one in the New York City area -- Weiner's district was thought to be safe. But if the scandal continues to snowball and Weiner doesn't step down, Albany lawmakers could be looking for another solution.
Jacobs said it could be a factor, but said eliminating the district was still speculative: "You've got a lot of things that are going to go into the mix of redistricting."
Veteran New York Democratic consultant Hank Sheinkopf said he believes Weiner will ultimately survive, but that doesn't mean that the drumbeat for his resignation will stop anytime soon.
"The crime committed here is being an adolescent in the congressman's office," said Sheinkopf. "A lot of Democrats are going to want him to step aside because they don't want him to be a poster boy for misbehavior."
"I would put my money on him today," Sheinkopf added. "He'll outwork and outfundraise anyone. He's a born campaigner."
Image credit: John Minchillo/AP
Drop-down image credit: AP