Can Obama Ride Twitter Out of the Bubble?
The company could get even more from a planned social media town hall than the White House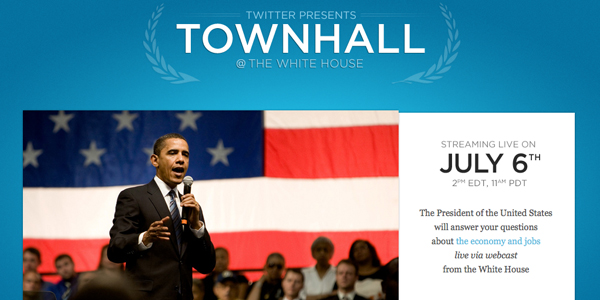 No, Barack Obama was not gearing up to send his first real presidential tweet. White House communications director Dan Pfeiffer had something else in mind when he teased this morning in a tweet, "Big announcement coming today re POTUS and twitter."
As it turns out, the big news is this: Twitter and the Obama White House have partnered up to hold a live "townhall" event next Wednesday, July 6th. The event's theme is jobs and the economy, and those wishing to participate can tweet a question in the president's direction using the hashtag #AskObama. (Unfamiliar with the concept of the hashtag? It's a bit of shorthand that can be inserted into a tweet the makes it easier to search for and aggregate posts on related topics.) The session will go down at the White House, but otherwise it's largely Twitter's affair. A Twitter executive will ask questions culled from the tweet stream by company staffers. The homepage for the event is hosted on Twitter's website, at AskObama.Twitter.com.
For Obama, the Twitter town hall is something of a take-two on an event held at Facebook's California headquarters in late April. There, Facebook CEO Mark Zuckerberg asked pre-selected questions and called on company employees to query the president. It was an odd affair. The point was never entirely clear, beyond getting "Barack Obama" and "Facebook" in the same sentence in countless blog posts.
In contrast, in next week's Twitter "townhall," the White House's hope is produce an engagement where the president and denizens of the social media world are interacting in near real time. A Twitter PR rep noted in a tweet earlier today that Twitter co-founder Jack Dorsey will lead the questioning. (Note to word lovers: while the White House Facebook event was billed as a "town hall," the space between the words has been dropped for the Twitter event. Hey, when you've only got 140 characters with which to work...)
Why bother?
For Twitter Inc., the appeal is obvious. And for a White House still eager to mirror the online success of the 2008 Obama campaign, there are a number of attractive things about using Twitter to make the president of the United States accessible to the American public. For one thing, Twitter has a certain cachet, including in political circles. The company's in-house Flickr feed is a veritable who's who of politicos who have dropped into the company's San Francisco headquarters to say "Hey." Look, it's Newark Mayor Cory Booker and Speaker Nancy Pelosi, next to photos of Snoop Dogg and Dwight from "The Office." Then there's the fact that doing a Twitter-enriched press event doesn't require the sort of senior White House staff buy-in required by more paradigm-shifting forms of online engagement, like letting citizens tweak public policy or helping them self-organize to challenge Congress. Convincing the president and senior staff to do yet one more town hall, and one run by friendly faces, isn't necessarily the toughest of sells. As savvy a technologist and business thinker as Dorsey may be, tech entrepreneurs aren't necessarily the toughest of interlocutors. (Zuckerberg prefaced his question to Obama on education with a comment on just how awesome the Department of Education's Race to the Top program is.)
On a more nuts and bolts level, Twitter Inc. has a creator's understanding of the proprietary platform it built and maintains. The company knows how to navigate the tweet stream, and White House new media director Macon Phillips tweeted that the Twitter staff will be "surfacing" the questions to be put to the president. What's more, Twitter, a company of a few hundred people, has the technological capacity the White House's new media team just doesn't. Look for some creative visualizations of the event, powered by Twitter. Beyond all that, having Twitter Inc. invested in the promotion and success of a White House event doesn't look like a bad thing when you're sitting in the Executive Office of the President.
April's strange Facebook event aside, the White House has had success in coming up with new ways to use the popular tech tools of the day to change how citizens interact with their administration. In mid-May, for example, the White House put together an intriguing Twitter-enabled session on Mideast policy where NPR's Andy Carvin and George Washington University professor Marc Lynch used Twitter to surface questions for White House foreign policy advisor Ben Rhodes. Carvin and Lynch were tough questioners, and the global tweet stream seemed to serve as a collection of smart and interested commentators, observers, and stakeholders whispering in their ears, "Ask him this next."
But not all blinged-out social media political engagements are alike, and the White House's Twitter partnership raises questions. Twitter isn't Facebook; the former has a reputation for being far more thoughtful than the latter about how it navigates questions of public policy. But it's still an American corporation dedicated to expanding the reach of its product. And @WhiteHouse is still the presidency of the United States of America. What does the White House-Twitter partnership mean when Twitter gets hauled up to Capitol Hill to explain its privacy policy, or comes under federal investigation for its business practices? Does questioning from Jack Dorsey start to look like a replacement for questioning from experienced journalists like, say, CNN's John King? Will we next see AT&T CEO Randall L. Stephenson demanding an equal shot at the mic? Do tools like Facebook and Twitter that were once heralded as means by which we can open up the political process become simply new ways for business executives to get the ear of the president?
Maybe Dorsey, the moderator, will put those sort of questions to Obama. That's one way to make next week's production engagingly different from past presidential events. The event kicks off next Thursday, 2pm Washington DC time/11am San Francisco time, and will be webcast on AskObama.Twitter.com.