As More Photos Leak, Pressure Intensifies for Weiner to Resign
The congressman will take a leave of absence, against the wishes of top Democrats. A new cell phone image, meanwhile, appears to have been taken in a members-only House gym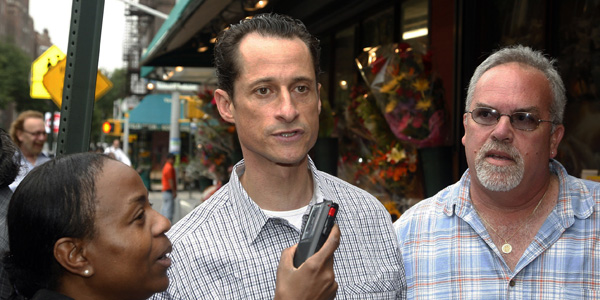 There was more cringing among Democratic leaders on Sunday when new pictures of a partially clad Rep. Anthony Weiner (D-N.Y.) -- some reportedly taken inside the House members' gym and sent online to at least one woman -- became public, adding another raunchy twist to two weeks or revelations about the congressman's "sexting" misconduct.
The photos were posted by the entertainment website TMZ, a day after Minority Leader Nancy Pelosi (D-Calif.) and other top Democrats called for Weiner to resign, following days of revelations about Weiner's sordid social networking habits, including news that Weiner had traded private messages with a 17-year-old girl.
(PICTURES: Latest in Long List of Political Sex Scandals)
But the congressman, through a spokeswoman, announced he instead was taking a leave of absence to get professional treatment and get healthy, to be able to make the best decision for himself, his family, and his constituents. In releasing the new photos on Sunday, TMZ questioned whether they might also establish that Weiner, in fact, went beyond offensive conduct with his lewd behavior, to have also have violated House ethics rules by using congressional resources to carry on some of his cyberaffairs.
Pelosi has already asked the House Ethics Committee to look into that possibility, though Weiner has insisted he used only his own BlackBerry and computer, and no congressional resources. However, one of the 11 photos TMZ has obtained shows an image of Weiner posing in what appears to be a locker room with just a towel around his waist, apparently taken by the congressman himself in front of a mirror with a BlackBerry.
(RELATED: Pelosi, Wasserman Schultz, Israel Call on Weiner to Resign)
Another image shows him wearing even less, with only a washcloth or small towel covering his crotch. One photo shows him on the gym floor with a blue tank top. TMZ.com said it has confirmed the photos had been sent online to at least one woman, and that the backdrop was the House Members Gym in the basement of the Rayburn House Office Building.
Whether simply taking photos from a congressional gym, or office, represents using congressional resources is uncertain. Weiner's spokeswoman, Risa Heller, who has said Weiner already has departed for his rehab, declined comment to National Journal on the new photos. She has not said where he is getting treatment. But House Democrats are getting their doses of punishment over Weiner in public. In a square-off on NBC's "Meet the Press" with Democratic National Committee Chairwoman Debbie Wasserman Schultz (D-Fla.) on Sunday, Republican National Committee Chairman Reince Priebus accused Democrats of not acting swiftly enough in the Weiner affair.
Priebus said Democratic leaders are defending "a guy who deserves no defense." Wasserman Schultz responded by ticking off recent Republican scandals, and said that despite her own and other party leaders' calls for Weiner to resign, "at the end of the day a member of Congress makes their own decision." In fact, Weiner's decision not to immediately resign, but instead take a leave of absence, appears to leave Pelosi and Democrats twisting about how best to end the furor over congressman's conduct.
Short of awaiting the results of what is typically the long process of an ethics investigation that could recommend expulsion, it remains unclear what they can do to Weiner other than ostracize him or remove him from key committees.
The tawdry Weiner revelations continue to overshadow their efforts to counter Republican efforts on such issues as Medicare reform, and threaten to undermine the party's prospects in the 2012 elections. House Minority Whip Steny Hoyer (D-Md.) on CBS's "Face the Nation" on Sunday called the Weiner scandals a "ridiculous distraction," adding that Weiner should consider stepping down.
The entire House Democratic Caucus is to meet behind closed doors on Tuesday morning for its first member-wide meeting since Weiner's press conference last week admitting some terrible mistakes. A Pelosi spokesman on Sunday said she did not have an immediate comment to the latest photos. Meanwhile, Heller had no immediate comment Sunday on whether Weiner will file formally for his leave of absence as early as Monday -- a process for which details seems uncertain.
Weiner's decision to take a leave of absence while getting treatment for his lewd online behavior appears -- for now -- to be in within his rights, in keeping with House rules. The procedure would appear to require Weiner or a member of his staff to make his request known. Then, House officials would fill out a form detailing the reasons and dates for the leave. The request would then be laid before the House chair at the conclusion of legislative business for the day. Members may choose reasons that are general, such as "official business" or "illness." But whether any congressional leader -- either Pelosi or Majority Leader Eric Cantor, R-Va., or anyone else -- will have to sign off on the request seemed up in the air Sunday night.
A Cantor aide said the belief is that Pelosi would, since it is a request from the Democratic side of the aisle. But a senior Democratic aide said that the leave of absence is simply submitted, and laid down to the chair -- and that no sign-off from any leader, or vote of approval by members, is required. "You ask for. You get," said the Democratic aide.
Image credit: David Karp/AP
Drop-down image credit: AP