As a 'Potential' Presidential Candidate, Life Is Good
Why these Republicans love sitting on the fence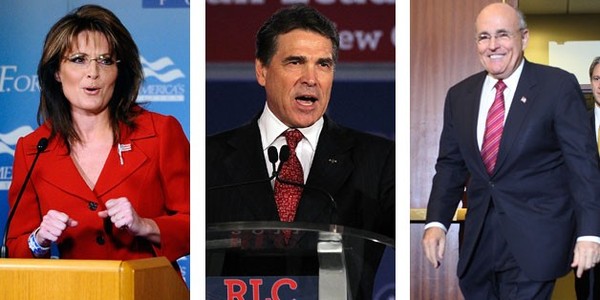 While Sarah Palin was hyping her biopic in Iowa on Tuesday, the Alabama Republican Party was adding names to the waiting list for its upcoming fundraiser headlined by Rick Perry. Rudy Giuliani is headed to New Hampshire to address a Republican women's club.
Between the telltale visits to the early primary states and the big crowds, you'd think these folks were running for president. But they're not. Not yet, at least.
Weeks after Donald Trump, Haley Barbour, Mike Huckabee, and Mitch Daniels all ruled out presidential bids, three possibly major candidates are still sitting on the bubble. And there's no sign of Palin, Perry, or Giuliani making a decision any time in the near future. "The governor is still thinking about a potential run and a decision will most likely come later this summer,'' said Perry adviser Mark Miner.
---
MORE FROM NATIONAL JOURNAL:
Foreign Policy Opens Fissures in GOP
Nerves Show on Team Obama
It's Kids vs. Corporate Jets on Debt-Ceiling Talks
---
What's the rush? Having those three words -- "potential presidential candidate'' -- next to your name can be addictive.
"There's a fun factor to being almost a candidate,'' said John Sununu, New Hampshire's former governor and party chairman. "People listen to you, but you don't have all of the responsibilities that come with running for president.''
No one is looking like the next Harold Stassen, the perennial and wildly unsuccessful presidential candidate from Minnesota, but at some point, the candidates on the sidelines are going to have to make a move before key activists are locked down and donors are tapped out.
Palin, who is well known nationally from her vice presidential bid in 2008, two biographies, one reality television show, and now, a documentary titled The Undefeated, can probably afford to wait the longest. Giuliani, whose front-running campaign in 2008 flamed out without a single primary victory, is not making serious preparations for a 2012 campaign. Perry, the governor of Texas, is the most likely late arrival to the GOP field, but is also the least known of the three -- and therefore has the least amount of time to linger. The straw poll in Ames, Iowa, long viewed as a potential springboard in the nominating process, is less than seven weeks away.
(PICTURES: Meet the 2012 GOP Presidential Hopefuls)
As head of the Republican Governors Association, Perry has national contacts. He's also got staffers who are veterans of past presidential campaigns -- including several who recently left the employ of another GOP White House hopeful, Newt Gingrich. Liz Lynch (Palin and Giuliani) Chet Susslin (Perry) illustration by Chet Susslin Sarah Palin is in Iowa for the premiere of The Undefeated, a documentary that takes a flattering look at her political career. National Journal's take: The most riveting plotline of the presidential race now involves The Undecided -- Palin and two big-name potential rivals for the GOP presidential nomination, all of whom have expressed an interest in the race but can't quite commit.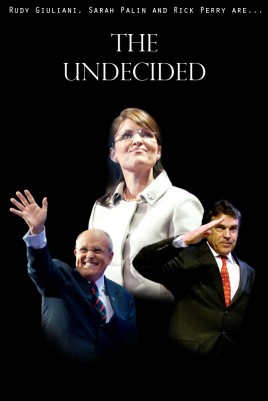 Liz Lynch (Palin and Giuliani) Chet Susslin (Perry) illustration by Chet Susslin
"If Rick Perry gets in, he'll instantly have an off-the-shelf campaign in Day One, though I think time is growing short,'' said Rick Wilson, a Republican consultant based in Florida. "The only one who can wait until she damn well chooses is Palin.''
Palin is unlikely to give any clues to her plans during her appearance at the Pella Opera House. The screening is closed to media. "There will be good positions for cameras to shoot stills and video of Governor Palin mingling with people at the cook-out in the alley between the back of the opera house and the square,'' according to a press release that made clear she won't be mingling with curious reporters.
Working through a line of supporters on Tuesday night, Palin said: "Um, [I'm] not ready to announce anything yet -- not so much -- but very happy to get to be here in Iowa with friends," the Des Moines Register reported.
Perry is scheduled to keynote a fundraising dinner for the Alabama Republican Party on August 12, one day before the straw poll in Iowa. The 600-seat event is sold out, and there are 300 people and counting on the waiting list, said a party spokeswoman, Shana Kluck.
The will-he-won't-he speculation about Perry has turned the dinner into the biggest fundraiser the party has ever hosted.
"As the rumors continue to spread, the demand grows larger,'' Kluck said. "He's added a level of excitement to the race that wasn't there before.''
In contrast, Giuliani is generating little buzz. "Given his name recognition and popularity within the party, Rudy has the luxury of time to make a decision,'' said his former campaign manager, Mike DuHaime. Tickets are available to see him at a July 14 luncheon -- also featuring chicken piccata and strawberry shortcake -- hosted by the Seacoast Republican Women in Hampton, N.H.
VIDEO: Palin speaks to the audience after the debut of The Undefeated.