A First Look at Rep. Giffords
The congresswoman is speaking in complete sentences according to a friend, and new photos show her with few signs of the shooting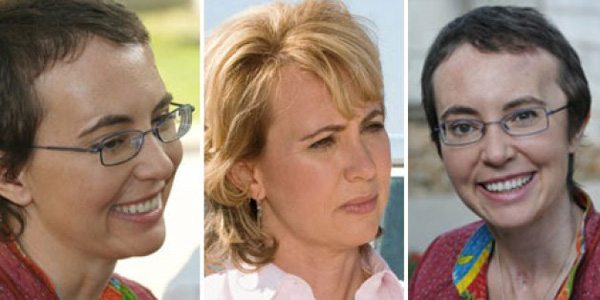 In the photos that give the public its first good look at her since an assassination attempt in January, Rep. Gabrielle Giffords is smiling.
---
MORE FROM NATIONAL JOURNAL:
Ready, Set, GOP
More Weiner Photos, More Democratic Angst
Obama Takes Long View in Highlighting Job Training
---
Two new photos released on Giffords's Facebook page early Sunday show the Arizona Democrat with close-cropped hair and few obvious traces of the shooting at a public event in Tucson.
(TIMELINE: Gabrielle Giffords's Recovery)
The note on Giffords's Facebook page says, "The photos were taken May 17 at TIRR Memorial Hermann Hospital, the day after the launch of Endeavour and the day before she had her cranioplasty." Giffords had been transferred to the Houston hospital for rehab and to be near her husband, astronaut Mark Kelly, who was preparing to lead the Endeavour space shuttle mission.
Giffords's mother appears with her in one of the photos. They were taken by P.K. Weis, a longtime photojournalist at the Tucson Citizen who had long known Giffords, the note said.
Rep. Debbie Wasserman Schultz, D-Fla., who was there when Giffords first opened her eyes in the hospital back in January, said she talked to her friend on Wednesday over the phone. "We really had a wonderful conversation; she spoke to me in full sentences, initiated those sentences instead of just responding, which is what she'd really only been able to do recently," Wasserman Schultz said on NBC's "Meet the Press." "She's making remarkable progress. We're so proud of her."
Photos released shortly after the shooting showed Giffords's hand holding her husband's. And video by a Houston television station showed her boarding a plane for Florida, from a distance, in April. But the photos released Sunday are the first that show Giffords portrait-style.
Giffords was shot point-blank in the head on January 8; six were killed and 13 injured in the rampage.
Image credit: Getty Images and Facebook