Will Evangelicals Sink Romney?
The former governor is Mormon, used to be pro-choice, and could find himself even more vulnerable with Mike Huckabee out of the race
The former governor is Mormon, used to be pro-choice, and could find himself even more vulnerable with Mike Huckabee out of the race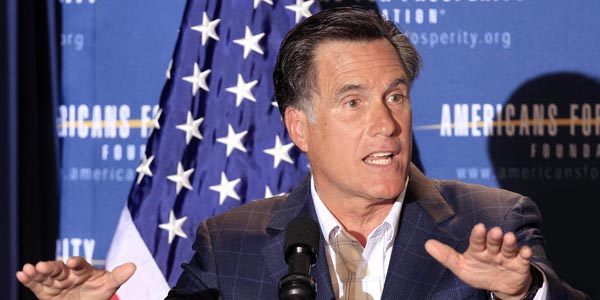 Mike Huckabee, judging by the early opinion polls, would have been among the most formidable challengers to Mitt Romney, the putative front-runner for the 2012 GOP presidential nomination. But Huckabee's departure from the race, paradoxically, could make it more difficult for Romney to prevail.
The reason is that with Huckabee off the field, the former Baptist minister's core constituency -- the evangelical Christians who represent nearly half of the GOP's primary electorate -- are now back in play for all competitors. If Romney can't defang the resistance he encountered from those voters in 2008, he faces the threat that they will eventually consolidate behind another contender, such as former Minnesota Gov. Tim Pawlenty, with potentially wider support than Huckabee demonstrated last time. "The risk for Romney is that some other candidate with broader appeal may attract them, someone who could stitch together a majority coalition in a way that Huckabee was not going to do," says veteran GOP pollster Whit Ayres, who is not affiliated with any of the 2012 candidates.
---
MORE FROM NATIONAL JOURNAL:
Quotes of the Week
Gingrich's Ryan Critique Should Bring Back Memories
A Brief Bin Laden Bounce
---
Even many Republicans underestimate the centrality of evangelical voters in the GOP's nominating process. In 2008, self-identified evangelical Christians constituted 44 percent of all Republican presidential primary voters, according to a cumulative analysis of state exit polls by former ABC polling director Gary Langer. Candidates who rely almost entirely on evangelicals -- such as Huckabee, Gary Bauer in 2000, and televangelist Pat Robertson in 1988 -- have never come close to winning the GOP nomination. But evangelicals are plentiful enough that any candidate whom they deem completely unacceptable faces a formidable obstacle -- and not only in the Deep South, where they are most heavily concentrated.
Evangelical Christians represented a majority of 2008 GOP primary voters in 11 of the 29 states in which exit polls were conducted. In Iowa and South Carolina, two states that along with more-secular New Hampshire have proved decisive in Republican nomination contests since 1980, evangelicals provided exactly 60 percent of the vote. In 10 other states, including many outside the Deep South, evangelicals represented between one-third and 46 percent of the vote.
With Huckabee's departure, that huge voting bloc lacks an obvious favorite in the emerging 2012 field. In various ways, Pawlenty, former Sen. Rick Santorum of Pennsylvania, Rep. Michele Bachmann of Minnesota (who appears close to announcing her candidacy), former House Speaker Newt Gingrich, and Sarah Palin (if she runs) all have some claim on that community's affection. But none begins with credibility or connections anywhere near Huckabee's. "There's a huge vacuum waiting to be filled in what is arguably the single most important dynamic and consequential constituency in the Republican primary process," said veteran conservative activist Ralph Reed, who helped build the once-powerful Christian Coalition and is now chairman of the Faith and Freedom Coalition.
Among the top-tier candidates, Romney may face the steepest challenge with those voters. The former Massachusetts governor struggled enormously among evangelicals during his 2008 race, especially in the South. Romney captured 20 percent or less of the evangelical vote in five Southern contests before he quit the race on February 7; he won just 11 percent of their votes in the pivotal South Carolina primary. Outside of the South, Romney consistently ran somewhat more strongly among evangelicals, but in only six states (including his home territories of Michigan and Massachusetts) did he carry as much as 30 percent of their support. He fell far short of that in the Iowa caucus.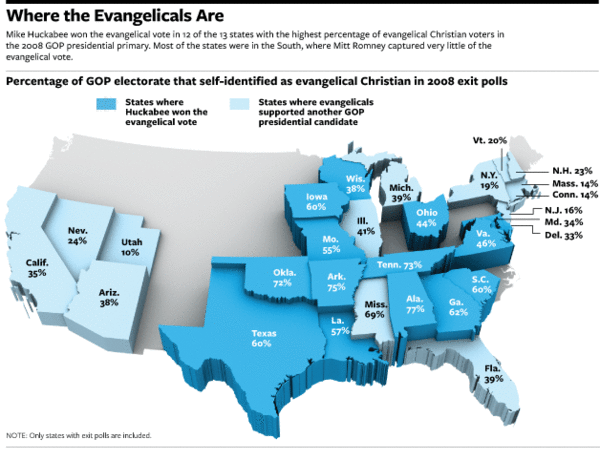 Romney has encountered two levels of resistance from evangelicals: doubts that he is truly committed to conservative positions on social issues such as abortion, and theological tension over his Mormon religion. That latter problem was especially pronounced in the South, where Southern Baptists and Pentecostals, two groups particularly leery of Mormonism, make up at least two-thirds of Republican evangelicals, notes John C. Green, a political scientist at the University of Akron who is an expert on religion and politics. Class issues compound Romney's challenge. Polls suggest that his smooth, boardroom manner plays better among college-educated than noncollege Republicans, and in many places evangelicals tilt toward the latter. (See "Populists Versus Managers," NJ, 12/18/10, p. 16.)
Romney's weakness with evangelicals, somewhat counterintuitively, explains why he might have benefited had Huckabee entered the race. In 2008, Huckabee won either a plurality or a majority of evangelicals in 15 of the 29 states with exit polls, including virtually every Southern state. Huckabee's appeal to Southern evangelicals was so powerful that he won five states in Dixie after his late-January defeat in South Carolina essentially guaranteed that he would not capture the nomination.
But Huckabee showed extremely limited appeal beyond that community. In 15 states last time, he attracted no more than single-digit support among non-evangelical voters. Unless Huckabee could have radically extended his reach in 2012, that profile suggests that he would have had enough of a floor to threaten Romney but probably too low a ceiling to beat him.
So, Huckabee might have helped Romney by siphoning off the voters most skeptical of him -- evangelical Christians -- into a candidacy that ultimately was unlikely to succeed. Huckabee had the potential, Ayres notes, of denying to any other candidate "the voters Romney will find most difficult to get." In the same way, the Arkansan might have again dominated the Deep South primaries -- where Romney faces the biggest hurdles -- and thus taken them off the board for any other competitor.
Now, those evangelical voters and Southern states are in play again and are a potentially bigger risk to Romney if they support a candidate with a greater chance than Huckabee of incorporating them into a broader coalition. "The reaction of a lot of people is that Huckabee being out is good for Romney," Green says. "But, strategically, it might create a more serious problem for him."
Almost all GOP analysts agree that Huckabee's departure increases the odds that evangelical voters will fragment early on, especially in Iowa, whose caucuses will kick off the Republican race. But if the contest eventually reduces to Romney and one rival -- either in the South Carolina primary or immediately after it -- Huckabee's exit increases the possibility that evangelicals will unify against Romney, unless he can expand his appeal with them.
That two-stage process is essentially what happened in the 2000 GOP primary. Despite George W. Bush's strong credentials as a social conservative, evangelicals in Iowa splintered among him, Steve Forbes, Alan Keyes, and Gary Bauer. However, once the contest hardened into a two-man race between Bush and John McCain, evangelicals provided the Texas governor more than two-thirds of their votes in states from Michigan and Ohio to Virginia, California, and -- most important -- South Carolina; that dynamic was a critical element in the conservative convergence that lifted Bush to victory.
None of the 2012 candidates are as well positioned as Bush was to consolidate evangelicals while simultaneously reaching beyond them. Some observers believe, however, that Pawlenty has the best chance. With his pedigree as a blue-state governor, he won't face the cultural resistance that Huckabee did outside the South. And as a Catholic who converted to evangelical Protestantism, Pawlenty has an opportunity to forge cultural connections with the conservative Christians who powered Huckabee's candidacy. "He's very comfortable talking about his faith," Alex Conant, a Pawlenty spokesman, said. "We have spent a lot of time reaching out to evangelical voters in Iowa already, going to faith forums and meeting with pastors and Huckabee supporters, and we will do that everywhere."
At the least, Huckabee's decision will pressure Romney to improve on his meager 2008 showing among evangelical Christians and prevent them from solidifying behind any particular rival.
The best scenario for Romney is that more evangelicals take a second look at him now that Huckabee's big shadow is removed. "The challenge that Romney poses for [these] voters is, if you are judging based on faith, judge how I live my life versus doctrine or creed," says GOP consultant Kevin Madden, who advised Romney in 2008.
The current environment may help Romney win a new hearing from more evangelicals. In any GOP primary, not all evangelical voters choose their candidates solely on social concerns. Next year, all Republican voters, including evangelicals, will probably tilt even more than usual toward economic and fiscal issues, party insiders believe. "This is an economic election, not a social-issues election," says Warren Tompkins, a longtime South Carolina GOP consultant who advised Romney last time and is neutral now.
That's undoubtedly correct. But if the evangelical cornerstone of the Republican coalition remains leery of Romney next year, he may look back at Huckabee's departure this week as a moment that unexpectedly increased, rather than diminished, his exposure to a challenge grounded in the pews.
This article appeared in the Saturday, May 21, 2011 edition of National Journal.
Image credit: Jim Cole/AP
Drop-down image credit: AP