Why Jeb Bush Won't Run for President in 2012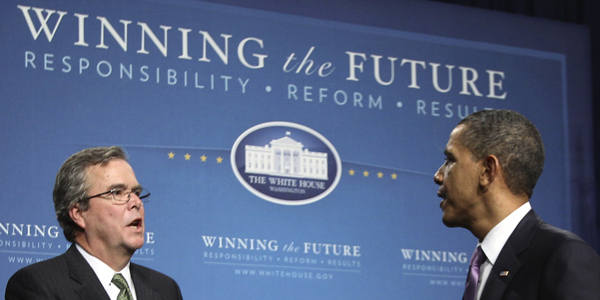 One thing all those pushing Jeb Bush to run for president this cycle can agree upon is that he's smart -- smart about education, smart about cutting taxes, smart about hurricanes. Smart about everything, so it seems, except political history, particularly his own.
Perhaps they forget. This business of girding himself to take on and bring down an incumbent; well, Jeb has been down that road before, and it did not end well.
In 1993, Florida Gov. Lawton Chiles had approval ratings not in the high 40s, like President Obama's, but in the 20s. One pollster found that respondents actually disliked tax policy proposals even more once they learned that Chiles was behind them than they had on their own merits.
Republicans smelled blood in Tallahassee, with four established names jumping in early to take on the aging Democrat. Two were statewide office holders, with more than a half dozen successful campaigns between them. A third was the sitting president of the state Senate.
All of this notwithstanding, from the day Jeb Bush stepped into the ring, it stopped being a fair fight. Though it was his first ever try at public office, it was by no means his first statewide race. In fact, he had been running presidential campaigns in Florida since 1980, when he moved there to direct his dad's effort against Ronald Reagan. Subsequent Reagan-Bush and Bush-Quayle runs in 1984, 1988 and 1992 meant that Jeb had a well-tuned apparatus, ready to switch on and go when his own time came.
His operation in 1993 was head and shoulders above anything his GOP opponents could muster, a national-caliber campaign condensed into a single state. Where they each had maybe two or three paid staffers, Jeb had 15, in cities across Florida. During a three-day fundraising swing in March 1994, Jeb, with parents in tow, collected $1.1 million -- about the same that his two nearest contenders had each raised in the previous five quarters.
The September primary saw Jeb win nearly half of the vote. The second-place finisher, who came in almost 30 points back, gave up rather than face a runoff, and Jeb surged to a double-digit lead against Chiles. It quickly became clear that Jeb's political structure was bigger, better and faster than Chiles's, too. Chiles' people were caught flat-footed, running an old-style Florida campaign against the all-offense-all-the-time, rapid response, go-go-go machine that Jeb had at his command.
And yet ... two short months later, Chiles had somehow scraped back and eked out a narrow, 63,940-vote victory. Lesson learned: Even with superior organization and vastly more resources, it's not easy taking down a reigning king.
There are differences between that incumbent governor and our own incumbent president, of course. Chiles was a Florida legend, a three-term U.S. senator who literally walked from Pensacola to the Keys to kick-start his first statewide race in 1970, and he was able to draw on decades of goodwill for one final victory. On the other hand, Obama's organizational skills and fundraising prowess are light years beyond that of Chiles or any other Florida Democrat, past or present.
Probably most determinative here, though, is the matter of second chances. Jeb ran for governor again in 1998, this time unopposed by other Republicans in the primary, and easily won the general. But if Jeb were to win the 2012 GOP presidential nomination and lose the general election, what are the chances Republican primary voters would give him a do-over in 2016? The days of Thomas Dewey and Adlai Stevenson are over. If Jeb were to face Obama and lose next year, he would almost certainly be done for good.
Still, for avid fans of the former first brother, the bright side is that they probably will not have to wait very long before seeing Jeb's name in common circulation again -- and this time, the role will be one that actually preserves and protects his option to run in 2016 (a year and contest Jeb has pointedly declined to rule out).
Just about one year from now, as the GOP winner sews up the nomination, the question of a running mate will arise. A running mate who, by dint of that role, would be the first among equals in 2016 should the ticket lose ... or even more than that, in 2020, should the ticket manage to win.
If Jeb is seriously considering his own run in those years, watch for today's "no" to turn into next summer's "yes."
Image credit: Jason Reed/Reuters
Unseating even a weakened incumbent can be harder than it looks, as Bush learned in the '90s