What Explains FDR's Puny Poll Bounce After Pearl Harbor?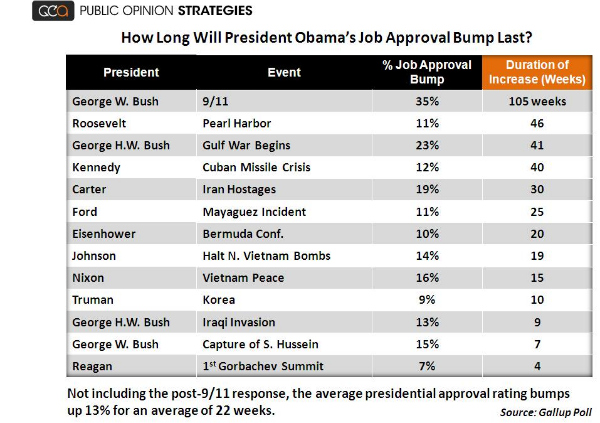 It's official: President Obama got a nine-point bounce in his approval rating after killing Osama bin Laden. That's more or less in line with the historical average for U.S. presidents after a major national security event, at least according to Public Opinion Strategies, which supplied the interesting chart above (the exception, George W. Bush's 35-point surge after 9/11, was excluded from the average). Nine points actually strikes me as a bit low -- especially given Bush's huge jump. But the number that really jumped out at me was Franklin Delano Roosevelt's paltry bounce of 11 points after Pearl Harbor. What gives? I thought that back in the olden days people rallied around the flag and supported their commander-in-chief after an attack. And even the not-so-olden days, as Bush's numbers attest.
Curious why Roosevelt fared so poorly, I contacted the one FDR historian I know, Jonathan Alter, of Bloomberg, NBC, and
Washington Monthly
fame, and the author of 
The Defining Moment: FDR's Hundred Days and the Triumph of Hope
. Here's what he said: "I have a couple of theories. First, his popularity was always high, but he was also always despised by a strong minority. So there wasn't much room to grow. Second, polling was primitive. Only five years before, a poll for a magazine showed him losing the 1936 election (in which he carried all but two states) because they did it as a telephone poll and only wealthier people who were disproportionately Republicans had phones. Finally, the finger pointing for who allowed the fleet to be destroyed at Pearl Harbor started right away (as did the investigations) and some no doubt blamed FDR himself."