Treasury's 'Extraordinary Measures' Are Not So Extraordinary
The debt-limit is fast approaching and a U.S. default would cause chaos. But don't panic quite yet.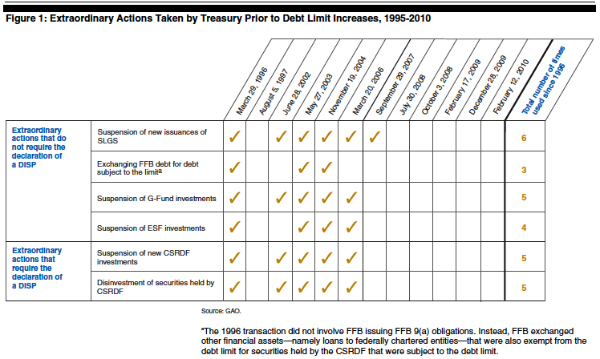 Right now, the media is consumed with Osama bin Laden, but once the news begins to recede the
debt ceiling
will quickly become a front-burner issue. Yesterday, the problem took another big step toward crisis when Treasury Secretary Timothy Geithner sent
a letter
to Congress outlining the "extraordinary measures" he'll begin taking this week to prevent the U.S. from defaulting when the debt limit is reached on May 16th. A default, Geithner has warned, "would have a catastrophic economic impact that would be felt by every American." This
Slate article
by Annie Lowrey offers a gripping take on what might happen. I'll bet one of the financial networks even breaks out a countdown clock.
The first of these emergency steps will come on Friday, when the Treasury suspends new issuance of State and Local Government Series securities, or "slugs," which are generally used to finance infrastructure projects. If the problem isn't resolved by May 16th, which it won't be, Treasury will take additional emergency measures, such as halting reinvestments in the G-Fund (a federal-employee pension fund) and suspending new investments in the Civil Service Retirement and Disability Fund, in order to buy themselves time. This will probably generate lots of anguish and hand-wringing, and the prospect of an actual default certainly warrants that.
But one thing to bear in mind about these "extraordinary measures" is that they're really not all that extraordinary. This
report
 (WARNING: wonky) on the recent history of the debt limit from the Government Accountability Office breaks down the numbers (see chart above). Suspending slugs? It's happened six times in the last 15 years. Cutting off G-Fund investments? That's happened five times. Likewise for the civil service fund. These actions may be extraordinary, but they're not unusual. 
That doesn't mean the issue should be be ignored or taken lightly--just understood a bit differently. What's extraordinary is not the steps that Treasury is about to take. It's that a group of Republican (and some Democrats) say they're seriously willing to default if they don't get their way.