The Side of Ground Zero That Obama Didn't See
The president was somber during his visit to honor 9/11 victims, but crowds nearby were raucous and still talking about Osama bin Laden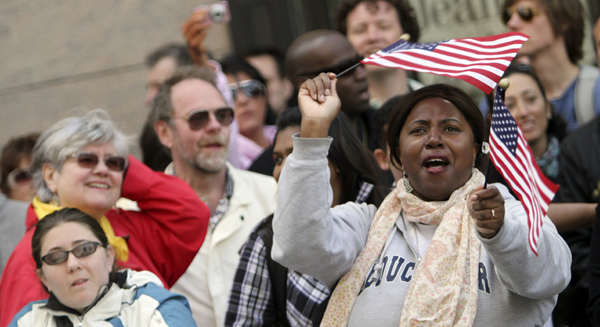 Reuters
NEW YORK--In the end, no one filling the blocks and blocks of sidewalks bordering the World Trade Center site actually saw President Obama--he participated in a wreath laying ceremony on the western side of Ground Zero, the opposite side of the area open to the public.
"You all think Obama is coming by here, but he's not," a police officer yelled as he tried to keep an intersection clear--but no one listened to him. Hundreds and hundreds of people stayed for hours. "This is history," many told me. And maybe, they thought, President Obama would come by.
Vendors sold $2 American flags while occasional chants of "Obama got Osama" erupted in the crowd.
It wasn't somber, but the mood at Ground Zero on Thursday was calmer than it was on Sunday night, when news of Osama bin Laden's death was first announced and hundreds of people, mostly students, rushed to the site. Kyle Mooney, a student at Pace University, a few blocks from Ground Zero, was one of those who flooded the street on Sunday night and returned today for Obama.
"I was really proud people came together like they did on Sunday," he said. 
I asked him if he thought celebrating was in poor taste.
"Yeah, maybe a little," he said. People were drinking, it was a party, but those weren't the most memorable parts of the night for him. "We had a moment of silence. And when the cops walked through, everyone cheered," he said. "The emotion was amazing."
His friend, Jamie Farley, also a student at Pace, said he didn't agree with the celebrating.
"Celebrating revenge? Where's the decency in that?" he asked. But, of course, Jamie went down to Ground Zero Sunday night too.
Ground Zero has mixed the sacred and the crass in unsettling ways since the first months after the attacks. Then, people filmed the destruction with video cameras and bought "Ground Zero" baseball caps from vendors. This week is happier than those months ten years ago. But it still elicits the same strange blend of reverence, patriotism, politics, and togetherness that makes it unlike any other place in the country. This may reflect not New York but America.
Margaret Granell, 60, was in New York from Ontario. Her son lives on Wall Street and they all piled out to Ground Zero on Sunday night too.
"It's history, and they got him!" she said, triumphantly. Granell was particularly upset that Obama has decided against releasing the pictures of Bin Laden's death.
"Americans paid billions of dollars to kill him, and they can't see him?" she asked incredulously. "We all saw the pictures of people jumping out of buildings on 9/11," she said. "What makes him so special that we can't see him?"
Granell said she hated crowds, but felt safe here. The crowd really did feel friendly. As we waited to see if Obama's motorcade would drive by, everyone seemed to be chatting with the people next to them. The tourists shared stories about Broadway shows; New Yorkers about how they were willing to stand around and wait.
"When you look at the news, Fox versus CNN, Democrats and Republicans, you get the sense that the country is divided," James Antoine said, standing on Church Street, starting to wonder if Obama's motorcade was really going to come by or not. "But here it doesn't seem that way. Everyone is positive, everyone is cool."  Antoine came over from Brooklyn. "I think people want to be here just to be here," he said.
Obama arrived at Ground Zero around 1:30. He did not speak, and quickly left to meet privately with a small group of families of 9/11 near Ground Zero.
By 2:30, it was all done.
"Give us something! Come on! Give us something, " a guy with an American flag tucked behind his yelled at a police officer trying to disperse the crowds. Obama was officially not coming by. "Give us Hillary, give us somebody!" he shouted again, playfully, to cheers and laughter. The police officer smiled and shook his head. Obama was gone.