The Most Absurd Newspaper Story of the Year
The Washington Post asserts that the War in Iraq helped us get bin Laden by getting us used to continual conflict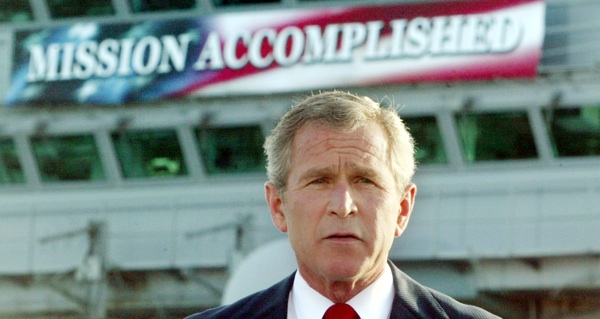 The Washington Post doesn't typically publish parody, so we'll have to assume this news article is written in earnest:
As President Obama celebrates the signature national-security success of his tenure, he has a long list of people to thank. On the list: George W. Bush.

After the Sept. 11, 2001, attacks, Bush waged wars in Afghanistan and Iraq that have forged a military so skilled that it carried out a complicated covert raid with only a minor complication. Public tolerance for military operations over the past decade has shifted to the degree that a mission carried out deep inside a sovereign country has raised little domestic protest.

Yes, thank you, George W. Bush. But for the fact that you presided over a failure to capture Osama bin Laden, then launched an invasion of a country then unconnected to the War on Terrorism, spending an ungodly amount of money and bringing about the deaths of 4,452 Americans, all the while de-emphasizing the hunt for al Qaeda's leader, it's theoretically possible that our special forces would've been less prepared to eventually kill bin Laden years later.
As for the rest of that excerpt, I don't know if it's more absurd to believe that the American people wouldn't have supported a special forces raid into Pakistan if not for the military adventurism of Bush ... or if the more ridiculous idea is that thanks are owed to presidents who accustom us to constant war, because it might better mentally prepare us for a worthy military strike.
By this logic, we really ought to thank President Bush for the poor performance of FEMA during Hurricane Katrina. Think how Alabamans this year benefited from emergency management workers who learned what not to do in 2005! And the profligate spending and deficits? Without them the Tea Party might never have begun, so rank-and-file conservatives should thank the past president too. What a fun way to look at the world. Every failure and misstep can be made into a precursor of success.
Image credit: Reuters